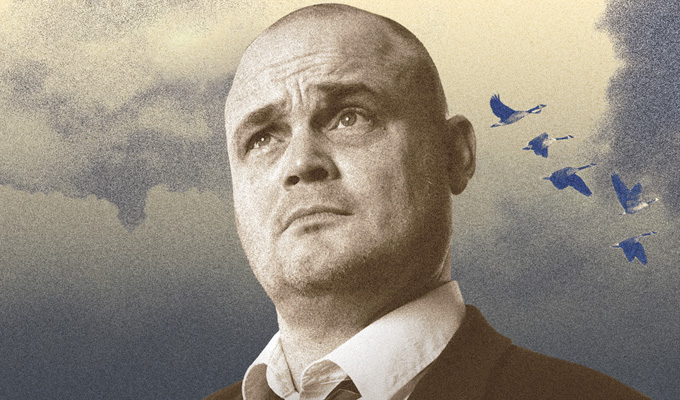 Al Murray: Let's Go Backwards Together
You might have though Brexit would be a godsend for the Pub Landlord, prompting a fierce display of triumphalism and fervent cries of 'traitor' towards anyone who dare suggest even a note of caution in the tearing up of treaties. See: Daily Express, Mail, Telegraph etc…
But that's not how he's playing it. Maybe Al Murray's as confused our political classes about what happened on June 23. Or maybe shit just got too real, as the tongue-in-cheek joke of the narrow-minded Little Englander became official government policy. 
A longstanding criticism of the act is that sometimes it can feel like he's giving succour to those who sincerely share his creation's laughable ideas, and in this divisive, toxic climate maybe that's playing with fire. For in Let's Go Backwards Together, Murray's anti-foreigner rhetoric is the most circumspect it's been in years.
The referendum question is boiled down to weighing up the manifold complexities of any international deal, the give and take of elements of sovereignty for the greater good, versus the chance to stick two fingers up at the Frogs and the Krauts. I think we all know what gets the cheer.
But the feeling here that Murray is understandably intimidated by the complexities of the situation, and reticent to revealing his, or his alter-ego's hand. He may be declaiming beneath a fascist/Soviet/Citizen Kane-style likeness of his own face, defiant and purposeful. But despite his pledges to step into the leadership vacuum, he doesn't have even tongue-in-cheek answers, save a pledge to take us back to Britain's 'sweet spot' of 1955, Germans freshly trounced.
It doesn't quite seem right that his alter-ego would have any sympathy for the Remainers, but he ridicules the Leave camp's fear-mongering innuendo that 75 million Turks were set to up sticks and flood in to the UK any minute now. And that segues into a long routine rewinding back through the eras of immigration that's very similar to a routine Stewart Lee has done on Comedy Vehicle – though infinitely more detailed, as you might expect from such a history buff.
There are also similarities here with his own previous routine, which scrolled back through various 'worst governments ever', giving a sense of deja vu to his fans. Both, though, are virtuoso displays of memory, commitment and performance more than being especially funny. Murray's a keen drummer, and this seems the stand-up equivalent of the over-indulgent drum solo: technically impressive but the song's probably better without it.
This routine ends the first half, which is otherwise largely concerned with crowd work, of which he's an acknowledged grandmaster. Though it does go on too long, especially if you're already familiar with comedy club compering – and the dependably amusing badinage only rarely escalates into full-on hilarity tonight. Thanks to the punter who said he didn't want to bring his wife as she had a squint and the other who said he was a 'steam engineer' for contributing to that.
Murray is, of course, expert at mock-bullying the crowd into acting stupidly or shrieking out that the whole thing's a 'joke!", though his attempts at rabble-rousing don't stretch to getting us singing along to his fairly bland ditties, as he'd hoped. He also remains the only comic who has a splash zone, as he absent-mindedly – honest – sloshes his pint around so vigorously in making his point that the front rows get soaked.
Although the political segments are dulled; other segments of bar-room wisdom away from this schismatic issue shone brightly. He even found a great take on the oldest trope in the book:  'men and women are different' – in which he fights every fibre of his being to try to show empathy with a partner, a wonderfully exaggerated bit of comic acting. 
His take on trans matters was vintage Guv'nor, as he spluttered around, confessing that his first reaction is: 'What's going on there?!' but trying to get his head around what's a newfangled issue to him, with some perfectly choice euphemisms for gender alignment surgery. 
Flourishes of great writing elevate many pieces, but they also serve to show up failings when he seems to have more straightforward content: bemoaning that the young generation don't know the meaning of the word 'stress', complaining that middle age means you can't stand up too quickly and you often forget what you came upstairs for. 
The idea of how you sent a dick pic in a pre-internet era is definitely on the hack list by now, and Murray can't contribute anything new – even if he does perform it better. Even when the comedy is as watered-down as his ale, the spectacle distracts.
Al Murray: Let's Go Backwards Together is on tour until May. Schedule.
Review date: 4 Nov 2016
Reviewed by: Steve Bennett
What do you think?