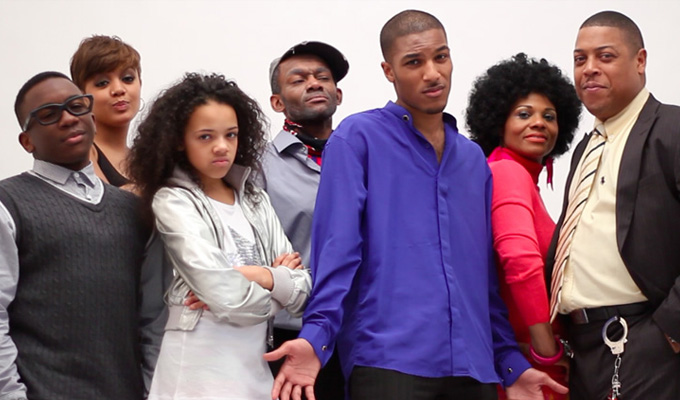 ITV2 Fresh
ITV2's new Fresh series of comedy pilots featuring black and minority ethnic talent kicks off tonight. Here's our critical guide to the series.
All About The McKenzies
The sitcom All About The McKenzies comes to ITV2 with a track record, having already been a pretty successful internet series.
Samuell Benta – who did just about everything here, acting, writing, directing – plays his namesake Samuell McKenzie who has ambitions of Hollywood superstardom via rapping, acting and modelling But he's working in a restaurant after a relationship breakdown, and stuck in his overcrowded parents' home, with relatives everywhere, talking fast and over each other.
The sophistication level is set early doors with a fart gag, and the second half starts with an extended diarrhoea scene.
While it has a nice energy, from the hip-hop credits to animated inserts, it's all rather over-acted, signposting ordinary lines ought to be funny. Add in very broadly-drawn characters, plots that make little sense and cheesy plinky-plonky background music, and the overall tone makes All About The McKenzies seem more like a CBBC comedy based around the sassy young character of Angel than a mainstream offering. And not a very good CBBC comedy at that.
Tonight, 8.30pm
Dropperz
This mockumentary about a struggling grime group is in the same ballpark as BBC Three's underrated People Just Do Nothing, in both tone and setting: a hapless gang of young chancers trying to make it big in entertainment despite their stupidity.
Dropperz are a British grime group played by Adam Deacon, Kiell Smith-Bynoe, Guz Khan, plus Letitia Hector as Kelly, a hanger-on always gazing into her phone taking selfies, self-obsession being the extent of her character.
Running the risk of being a one-hit wonder; they are placed into an easy-to-grasp peril: they are given the run of heir manager's pristine home for three hours to shoot an edgy video – 'else Dropperz really will be dropped' – without causing any damage.
There are some gaggy lines and funny visual gags – not least the guns they eventually bring to the shoot. Meanwhile the glimpses we get of their music effectively parodies some of the genre's more vacuous lyrics, and the whole attitude mocks the 'thug life' the music's supposed to celebrate.
The main disappointment is that the episode's big punchline will be familiar to anyone who knows shaggy-dog pub jokes. So while Dropperz isn't People Just Do Nothing quality yet - but it's promising. Probably the best of the bunch.
Wednesday November 2, 8.30pm
Sorry, I Didn't Know
We're in familiar panel show territory here. But, shock of shocks, there's a gender balance and an ethnic mix – comic Toby Williams is the token white guy and never allowed to forget it.
The questions are at the smart end of the spectrum, asking questions of black history,. And that makes it informative too since most the pioneers mentioned never made the school curriculum devised by white folk.
Host Jimmy Akingbola plays it fairly straight, and his thespian background gives him an innate authority, leaving the teams – Chizzy Akudolu, Jo Martin, Jimmy James Jones, Paul Chowdhry, Judi Love as well as Williams – to muck about with the jokes. They deliver as dependably and flippantly as any of the big panel shows, and the subject matter certainly gives it a point of difference.
Thursday November 3, 8.30pm
What's The Facts?
What's The Facts? sets out to be a different sort of mockumentary – not the hidden-camera type that's so prevalent but a spoof of more tabloidy popular factual shows in which comedian Jason Lewis tries to draw links with all sorts of odd things.
It's a real mash-up – a stream of consciousness mixing surreal observations with odd real-life clips from the news and the nether reaches of the internet. There are some sketches in there too, but they're taken from YouTube, not generated by this show's writers.
Clip shows are ten-a-penny of course, and this may be an attempt to do something different with the format. But it doesn't essentially change what it is – while the random nature of the narrative makes it hard to invest since so little of it makes sense. It doesn't add much to the footage anyway.
You'd probably be better off disappearing down your own YouTube hole for half an hour.
Friday November 4, 7.30pm
Review date: 1 Nov 2016
Reviewed by: Steve Bennett
Recent Reviews
What do you think?