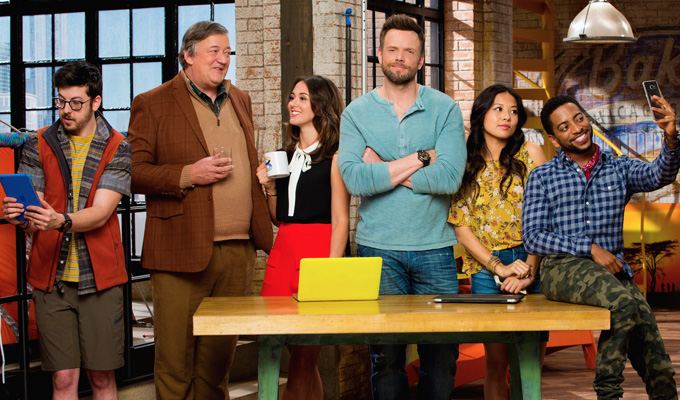 The Great Indoors
Is this what Stephen Fry quit QI for? His new American sitcom The Great Indoors, which launched on CBS last night, is not likely to win many critical plaudits, as it revolves around a cast of the shallowest stereotypes around. 
Its premise is that millennials are an indulged, feckless and entitled generation, easy offended and caring only about the trivial. If TV is losing this demographic to the internet, this simplistic portrayal is not going to be the thing that wins them back.
Talking of the changing media landscape, that's the very situation that Bear Grylls-type adventure journalist Jack – played by Community's Joel McHale – finds himself in, as the magazine he writes for, Outdoor Limits, has just published its last print edition. So now he has been drafted in by old-school gentleman-editor Roland (Fry) to oversee the digital content team led by the typically pampered Clark (Christopher Mintz-Plasse, best known as McLovin Judd Apatow's Superbad)
'Oh my god, you're a legend, I can't believe you're here,' says Christine Ko's Emma in that lazy, rising-inflection drawl that makes everything sound so ironic. She's the sketchiest of the whole badly-drawn ensemble, a slightly out-of-touch 50-year-old's idea of what a 20-year-old sounds like. Ben Elton's The Wright Stuff springs to mind
The whole world of technology has passed Jack by - even though someone in his mid-40s might be expected to have some internet savvy.  But here he is the dinosaur trying to get to grips with what youngsters do online. 'You're like the human version of dial-up,' one of them tells him. (Incidentally, Susannah Fielding, the British actress playing his love interest is 14 years McHale's junior, pretty much the same age as the sallow youths who are supposed to be so immature. Hollywood, eh?)
The writers haven't exactly  sussed out  social changes themselves, as evidenced  by an odd, dated scene when Jack mistakenly suggests that one of his young charges might be gay – oh the hilarity that a man might favour other men! Would any cosmopolitan urban millennial care?
Such lack of subtlety might be no bar to The Great Indoors's success… after all, it never hampered Two And A Half Men. The show doesn't have aspirations to be anything grander than it is, and the writing team have cranked out some good lines from their two-dimensional characters. 'I'll have what you're having,' says Jack as Roland offers him a drink.  'Then you'll be having your third scotch of the day.'
Fry's a bit wasted in the show, which has been acquired for the UK by ITV2, but his avuncular boss adds a warmth in every brief appearance. Just him barking: 'Jack' in that familiar 'bah!' is a delight.
And there is some truth behind all the superficiality, not least in the media's direction of travel. 'You can't just post animal videos and call it journalism,' he complains after seeing his derring-do reduced to another clickbait listicle.
But sadly The Great Indoors is not much different than that which it mocks: easy-to-digest entertainment without much substance. Jack himself has a line that could sum up the whole episode.  After the two generations inevitably put their differences apart to create some content that satisfies both, he sighs 'Well kids, that was OK. Not great. Not even really that good.' But OK. 
Review date: 28 Oct 2016
Reviewed by: Steve Bennett
Recent Reviews
What do you think?