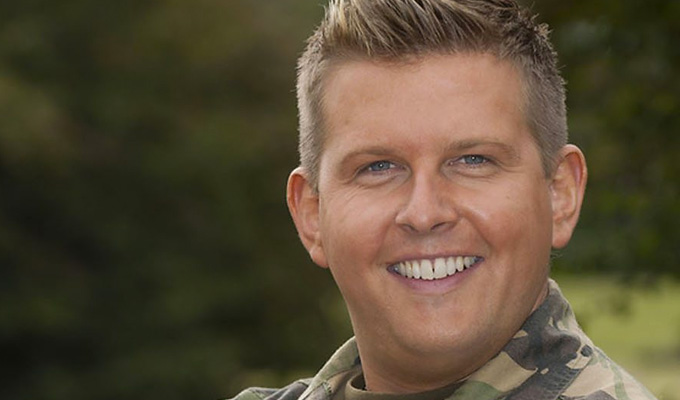 Gary Tank Commander Live
The Scottish embrace their home-grown sitcoms with a passion rarely seen south of the border, enabling even a relatively modest ratings-grabber like Gary Tank Commander to take over Glasgow's Hydro arena for three nights, following in the footsteps of Still Game and ahead of the expected Rab C Nesbitt dates.
Fans get to share their  relish the catchphrases – you can buy cheesy pasta and chips at the concession stands, though I didn't spot any Curly-Wurlys – and Greg HcHugh's corporal, who puts the 'camp' in Bastion, greets the sizeable, delighted  crowd with his usual cheery 'hiya'.
The production's sizeable too, with a full set and even a helicopter – Eat Your Heart Out Miss Saigon – although the computer graphics that fill in some of the action sequences are like Call Of Duty… on a Super Nintendo.
We meet the unit out in the desert, but the tank commander is without his tank, having swerved a transporter truck to avoid a camel that the soppy-brained soldier thought was mystical. The team have to be airlifted out by the Yanks, who subsequently want a favour in return: custody for a suspected terrorist – aka 'jihadi baddie', aka 'cheeky wee radge' – before his extraordinary rendition.  And in a B-story, bakery worker Julie (Leah MacRae) has joined the Army – as they had to get her in this show somehow – where she flirts intensely with Jeff The Chef (James Allenby-Kirk)
It's a plot that's stretched a bit thin over two-and-a-half hours (including interval), McHugh not being the first sitcom writer to find difficulties in extending a half-hour format to a feature length. The second half, especially, spends a lot of time on plotting and exposition of a fairly simple story at the expense of laughs. Our possible ISIS man even gets to sing a ballad I Am Your Brother, Set Me Free without irony or piss-take.
Other song-and-dance moments are more tongue in cheek as the soldiers mime out the likes of Beyonce or Lady Gaga to cover scene changes, though these moments never quite catch fire.  And there's even a surreal dream sequence as Gary's CO – Stuart Bowman the wonderfully brusque Sergeant Thomson – gets into his subconscious.
But the laughs come thick and fast when the 104th Royal Talk Regiment's finest are just sitting around talking nonsense, which seems a reasonable reflection of squaddie life between the moments of terror.  Driven by a zeal to get a medal unseen since Muttley., Gary's malapropisms are a particular delight (the World Trade Centre was attacked on '9/10/11' and his mangling of the word 'interrogation' is a sterling running joke). And there's a few great double entendres, made stronger by taking a moment or two to drop.
The cast's enjoyment of performing is infectious, and the biggest joy comes as they choke back their own giggles, as they are frequently on the cusp of corpsing. The cast sometimes play with the  audience's reactions – and there could have done even more – acknowledging this is a live show, not a filmed sitcom… although inevitably, you end up watching the screens, even more than at a stand-up arena gig, since there are so many people on stage. 
Another interface with the real world comes in discussion of what the characters have been up to since the last regular  TV episode aired in 2012, with reference Gary interviewing Scottish political figures, with Nicola Sturgeon likened to a 'confident Jimmy Krankie', to the crowd's delight. It's one of several direct hits by the show's heavy artillery, but like war itself there are also some extended periods where not much happens.
Review date: 24 Oct 2016
Reviewed by: Steve Bennett
Reviewed at: Glasgow Hydro
Recent Reviews
What do you think?