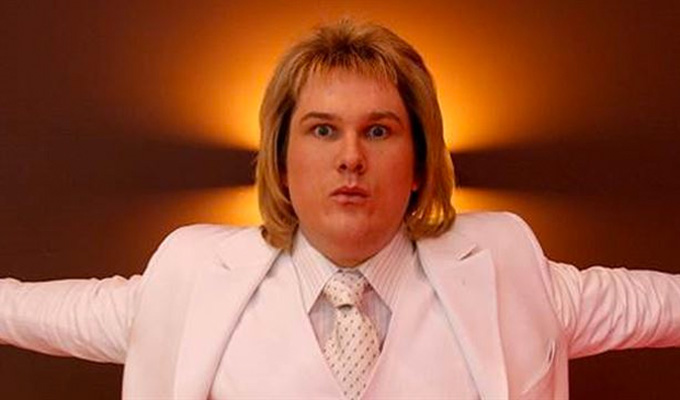 Shirley Ghostman's Spooktacular
Shirley Ghostman is back from the dead – and just in time for Halloween. 
It's been 11 years since Marc Wooton's spiritual medium alter-ego starred in his BBC Three series High Spirits, whose cancellation may well have been related to the storm of protest the BBC received after Ghostman appeared on Jonathan Ross's chat show, making bad-taste jokes about Jews, cancer patients and Hitler. 
That should give you an idea of what to expect here: Jimmy Savile is mentioned in the opening number, and there's a sketch featuring not only Princess Diana – always referred to as Lady Di What Died – but the grotesque baby she's had, fathered by Ghostman himself and realised as a flamboyantly unsettling ventriloquism act.
'Flamboyant' can be applied to much of this show – although Ghostman would like it placed on record that he is very much not gay – with his camp delivery, sparkly white suit and cheesy song and dance interludes that smack of cheap showmanship. Talking of cheap showmanship, Derek Acorah is his template – or nemesis.
The charlatanism of this world is obviously an easy target, and you don't need to be a psychic to see some of these jokes coming. Over the course of a couple of hours, Ghostman hits similar notes time after time, namely sick gags about tragedies and ostentatious double entendres. The ghosts he communicates with via spirit guide Sheeba, his dead dad's dead dog, seem to be filthy-minded, and often right dicks. In all this, 'nuance' and 'sophistication' aren't necessarily words that spring to mind, but there are laughs in the excess.
Ghostman also occasionally gets taken over by celebrity ghosts such as Nelson Mandela (yes they do 'enter his body', fnarr, fnarr) that enables Wooton to indulge in some outlandish character work, only loosely connected to the stars he's channelling.
And between all the grander set pieces, he indulges in quick and effective crowd work, granting some punters the absolution they didn't know they sought. 'I feel your pain, I feel your shame, but you're not to blame' is his mantra, reassuringly intoned as he refers to the amusingly tragic consequences of some imagined action
It's patchy, but the Spooktacular show kicks up a gear once it passes to the other side… of the interval, when a backstory about Ghostman seeking revenge on a plumber he feels wronged him pays off climactically, an Alan Partridge-like pettiness writ large.
The most memorable moment, though, is when he shows us how charlatans like Acorah do it: not so much overcoming the spiritual gulf to the other side as overcoming data protection legislation to get audience members' names before plundering their online activity. Wooton, who's never been afraid of a daring real-world stunt, pulls out the stops here for a sequence that will have you wondering: 'Did that just happen?'
Other sections are less effective, notably a too-long routine about religion which seems a laboured way of being offensive to all the major faiths. And getting the audience to write down their questions in the interval looks likes a waste of time if he's only going to address a couple before kicking into the planted queries. Not that the section would have benefitted from any expansion, however. 
The whole show would benefit from being tighter, but Wooton's performance is as, erm, spirited as you could want, as he sells his ideas with bold conviction – even overcoming the evil juju that got into the PA system and cursed his headset mic. 
Review date: 24 Oct 2016
Reviewed by: Steve Bennett
Reviewed at: Bush Hall
Recent Reviews
What do you think?