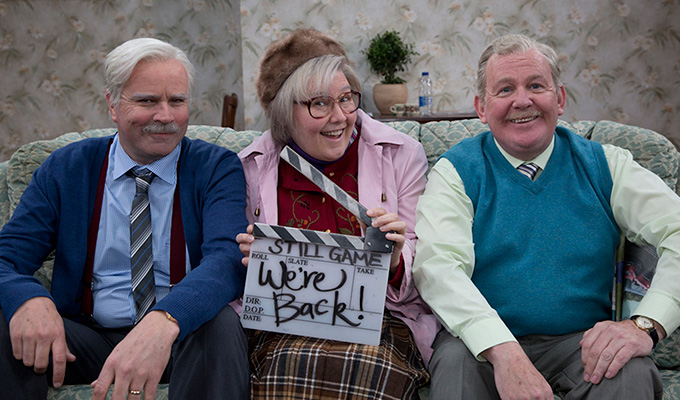 The return of Still Game
The BBC continues to plunder its own back catalogue for the next mainstream sitcom hit. Still Game isn't quite as antiquated as the likes of Open All Hours or Porridge, but its's been nine years since it was last on air. Even then many think the comedy, set in the fictional Glasgow district of Craiglang, was never given a fair showing south of the border.
So there will be a new audience now it's on BBC One at 9.30pm – and I suspect a lot of new viewers will wonder what all the fuss is about, as this episode seems clunky and dated. Even the pensioner characters, much loved in folk memory, seem unremarkable. 
The comeback is built on the success of the 2014 live shows that packed out Glasgow's SSE Arena for 21 nights. The concert film was shown on the Beeb, and conveyed a fun, shared experience with fans and performers delighted to revisit old friends. But such spirit is in shorter supply on the return to the screen. 
This opening episode is based on an Innovations-style catalogue with a few sketch-like scenes based on the preposterous items therein, such as a mop with Bluetooth and talking plastic dogs. 'Eggmaster 3000. What sort of window-licker would stump up the cash for that, eh?' Jack asks. Cut – true to cliche – to their mate Winston ordering the very same thing. Ford Kiernan and Greg Hemphill, who write as well as star and are back working together after a major falling-out, think this oldie is such a good gag they pretty much repeat it in the Clansman later. 
Oh, yes, and they are using 'window-licker' as a term of abuse in a mainstream comedy in 2016, which is likely to provoke some disquiet, despite the characters being generally likeable.
The crux of the show is based on Jack getting stuck in a bath. Not for being infirm, but just jammed in. This takes quite a bit of suspension of disbelief – and ignoring Kiernan's arms clearly moving around freely.
The B-story has Winston's near-estranged brother Walter making a rare visit to Craiglang, sparking a sibling rivalry between these opposites and leading to a poignant payoff. It doesn't quite have the hoped-for resonance for those not already familiar with the character, but does give the show some heart.
Walter, incidentally, is played by lawyer Gary Miller, a fan of the series who put on an amateur version of the original stage play in 2011, putting him in contact with the creators. Though in truth no one here appears to be a great actor.
There's a lot of clunky signposting: The opening scene has Jack explain to Victor their usual routine. They might as well have a flash card saying: 'EXPOSITION' up on the screen... it's not even a necessary set-up. Later, a neighbour pops in to signal a denouement so blatantly he might as well be using semaphore.
It seems to be a little crudely edited, too, with the timing of cutaways off the pace. And when you start to notice things like that, it's got to be a sign that something's wrong.
Mrs Brown's Boys shows that being rough around the edges is no bar to being a hit, though Still Game doesn't celebrate them it the same way, and obviously Mrs Brown's Boys is no template for critical acclaim, however popular it is.
There are some enjoyable moments of silliness in this opener, thrown in for no other reason than daft amusement, though the tone is uneven. There are broad pratfalls, while references to the likes of Whitney Houston's drowning are casually tossed in, seeming more gratuitous than edgy. 
But perhaps they are needed to distance Still Game from another mainstream pensioner comedy with moments of slapstick… else you might as well call it Last Of The Summer Buckfast.
Review date: 7 Oct 2016
Reviewed by: Steve Bennett
Recent Reviews
What do you think?