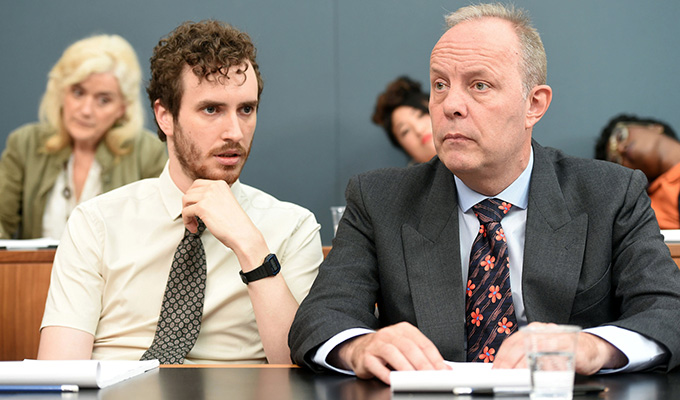 We The Jury
Note: This review is from 2016
It will come as little surprise that We The Jury, the latest pilot in the BBC's Landmark Sitcom season, is something unusual, given that it's been created by the ever-inventive James Acaster. The first script from the multiple Edinburgh Comedy Award nominee to make it to TV is certainly off-kilter in its tone, decidedly more silly than most sitcoms but delivered with straight faces all round.
From the get-go, our hero William – played by Gein's Family Giftshop sketch comedian Ed Easton – takes a childlike glee in being selected for jury duty, the culmination of a lifelong dream to follow in the footsteps of his father. And on his birthday too!
For William, and indeed the other 11 Angry Men and Women, becoming a juror seems to take on a mythical status somewhere between being a Freemason and getting diplomatic immunity.
Students of jurisprudence might take issue with this and one or two other teensie-weensie deviations from normal courtroom procedure. Judges rarely tell jurors 'don't be a party-pooper' or use terms like 'pack of mingers'… and the jury hitting the nightclub en masse might be considered a bit contemptuous.
There's something of a voice of reason from schoolteacher juror Jen 1 (Sophie Thompson) urging professionalism, but she's heavily outvoted by the idiots in the room. All of the ensemble cast bring something to the table, but stand-outs are Oliver Maltman as the smug foreman, a vision in puce and pink; Philomena Cunk star Diane Morgan as an uninterested (of course) goth and Cuckoo's Kenneth Collard as a weirdo bureau de change worker. And after starring in Young Hyacinth, Kerry Howard also pops up in this – and it's always a delight when she does – as William's potential love interest whom he meets in that club.
Acaster – who makes a brief cameo – has written some great lines for his eccentric characters, often deploying slightly strange turns of phrase, while sometimes an apparently offhand comment spins the action off in an unexpected direction.
We The Jury is a little like Green Wing, in both its heightened reality and that the setting is largely irrelevant to the comedy. The murder trial of croupier Darren Levinson (Him & Her's Ricky Champ) is definitely secondary to the odd exploits of the jurors, who are primarily concerned in this episode with whether on not they will be depicted sympathetically by the courtroom artists.
With such minor distractions, it's easy to see how this jury could return for a six-part series without ever coming close to reaching a verdict. And that commission should probably happen, if there's any justice…
Review date: 5 Sep 2016
Reviewed by: Steve Bennett
Recent Reviews
What do you think?