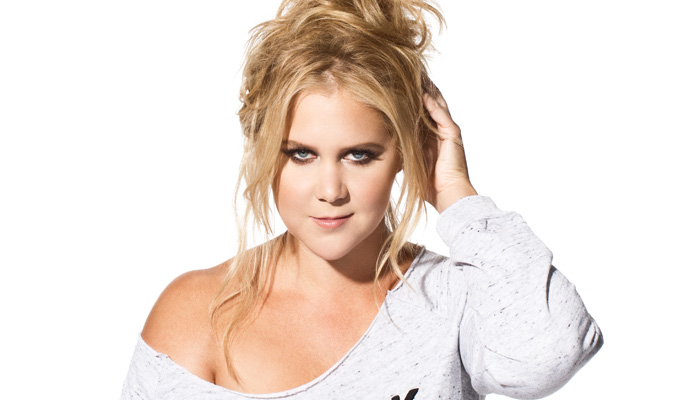 Amy Schumer
Amy Schumer comes to the UK on a career high, but she doesn't think her time in the spotlight will last much longer; not feeling or acting like a normal celebrity. She certainly shows no caution what she says, does or tweets: no filter, no embarrassment. She thinks women have always been raised with too much shame, but it's certainly not a condition that afflicts her.
Schumer is proud of who she is, from her body shape to her love of a good drink, to sleeping with whoever she wants – and then blabbing about all of the above on stage.
That also includes reclaiming the filthy talk from the male comics. 'I have no pussy shame!' she proclaims after an extensive mime of her cleaning her nether regions because they stink… Yes, she can get just the same cheap, crude laughs as men can; though it's pretty crass comedy whichever gender is peddling it.
But sometimes it's more nuanced, beyond the base. Her 'coming on my tits' routine, scores more gross-out points, before becoming stronger as it morphs into a more authentic, detailed first-hand account of the awkward aftermath of sex.
In other personal anecdotes, suffering blackouts from drinking too much is a recurring theme, coming too to finding herself mid-coitus, or piecing together evidence of the dietary excesses of the night before.
Her feminism-led agenda becomes stronger when she challenges the insidious messages about body image conveyed by the Kardashians or magazines such as Women's Health, with its bitterly ironic title, pressuring young women into not accepting who they are.
Sticking with the media, she's amused by the way she's written about, noting wryly how reviews of her movie Trainwreck inevitably referred to her as an 'alternative' romantic interest, or how similar euphemism is deployed when saying that Instagram shots of herself in her undies makes her 'really brave'. She has fun takes on the paparazzi at their own game, offering her own commentary on the snatched photos that the likes of Mail Online thrive on.
Schumer says she knows her place on the attractiveness scale – 'third hottest girl at the barbecue'– but also that she's the one who'll put out after the other two knock fellas back. Women will never have trouble getting laid since men are such unfussy pigs, she says, so why go to so much effort for them? It's a well-trodden argument, but she makes it in a typically forthright manner.
Despite all she says, she's now in a relationship – proof perhaps of the adage of 'if you can't handle me at my worst you don't deserve me at my best'. There's a piercing punchline about the icy reception she can get when meeting a boyfriend's mother. And talk of relationships naturally leads on to thoughts of parenting and her lack of aptitude for it, tolerating other people's children only, of course, because she can hand them back. Comically, this is a bit patchy as it's familiar ground.
Away from the personal - if only temporarily – there is a flick of politics. She only has to mention the awfulness of Trump and state that she's batting for Hillary to get an ovation, though it spins off into an amusing story about being sat next to Clinton at her birthday event, when still Secretary of State.
It's easy, too, to get whoops of approval from this audience when pointing out the insanity of a US gun culture that allows even people on the terrorist watch list to purchase weapons. Though the insanity of the situation can probably never be satirised enough, Howeverand Schumer has a specially important reason for mentioning it, given that a shooter killed two young women at a cinema showing Trainwreck last year.
All is delivered in her typical gossipy way, as if sharing intimacies over a bottle of wine – or maybe teHowever,she also refers to notes occasionally, especially for a couple of routines at the end.
The anecdote about the Inside Amy Schumer crew sharing a kitchen with a Spanish-language TV show who never wash up ends in a great moment – possibly the first time in the 75 minute the comic comes close to shame – while another one, fantasising about being engaged to Bradley Cooper feels too loose, until it comes back to more paparazzi shots, which she again has fun with.
An interesting side note, Schumer, like Louis CK in this same venue earlier in the month, admirably imposed a strict no-cellphone rule. Although she did permit a moratorium for her final routine, which meant the auditorium lit up with little blue oblongs like the Christmas lights; hugely distracting for anyone who might have wanted to remain in the moment of her story.
But Schumer is a product of the social media age, defying Hollywood conventions because she sells an authentic version of herself with an underlying message fans can get behind. Despite her protestations, she'll be famous for a long time to come… and maybe as her repute grows, maybe she'll temper her propensity for some of the grubbier jokes without compromising her no-bullshit agenda. But I wouldn't bet on it.
Review date: 31 Aug 2016
Reviewed by: Steve Bennett
What do you think?