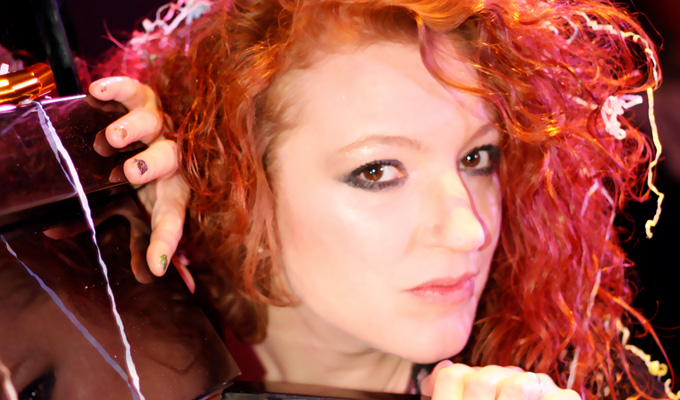 Kirsty Newton: Life Begins at Party!
Note: This review is from 2016
My last show in Edinburgh and a treat to myself. This was more cabaret than comedy and Kirsty Newton kept the mood giggly and light and my god, so much fun! There's none of the arch sexiness that clogs up cabaret, not that she couldn't switch it on at the drop of hat, but for an afternoon feelgood show, she pitched the mood exactly right with girl next door exuberance and positivity. There was a lot of kit on stage but given a bigger space and a better angle it wouldn't be a problem. For a free show, she had production values and professionalism and turned up with a show to blow your socks off.
The show's conceit was that's her 40th birthday [arty and we're all invited. And being a generous performer, she finds another birthday in the audience and makes it a joint celebration, it's not all mad ego.
The excitement started as she greeted us at the door, handing out party bags, hats, encouraging us to buy a drink, the walk-in music was perky and loud.
I was resistant I can't bear the idea of Compulsory Fun, but a bouncy intro and a marvellous montage of party images stimulate the most deflated, depressed spirits immediately. Even while promising myself I would not be singing along with anything, of course it happened.
There's much to enjoy, it's not just her singing, but well structured with a 'name that tune' game, a singalong and then a daily special guest with whom to duet, giving the audience a breather to just sit back and enjoy the artistry. This was a whole variety show, visually and musically exhilarating. Music was the dominant suit in this show, but Newton's personality and her interaction with a patient sidekick and DJ infused the whole hour with positive, kindly comedy
It goes without saying that she's a stunning musician, piano, glockenspiel and vocals all magnificently deployed in this show, but best she brings the party to the audience who on the day I saw it were average age 65. Seeing what Kirsty did with them she should be employed by the NHS to raise the spirits, the heart rate and help everyone rediscover their will to live.
Review date: 28 Aug 2016
Reviewed by: Julia Chamberlain
Reviewed at: Laughing Horse @ Cabaret Voltaire
Recent Reviews
What do you think?