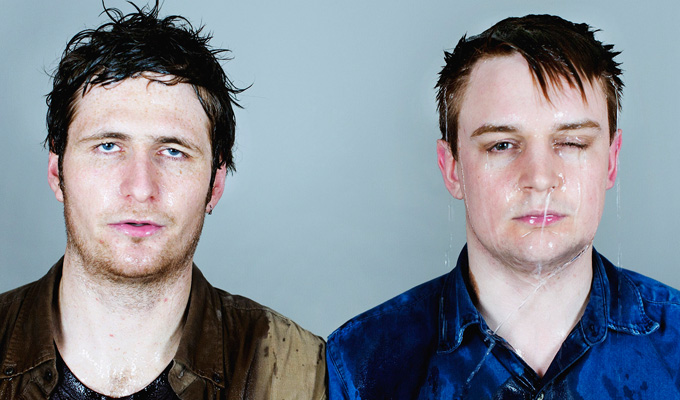 Goodbear
Establishing a distinctive tone and personality is where many sketch acts fall down. But Henry Perryment and Joe Barnes – as typical a couple of white actorly uni graduates as you would see this festival – have played that to their advantage.
Their third outing as Goodbear packs in the characters and the styles, the pretence that all this is happening over a single day the only unifying (and flimsy) idea. One-liner sketches intersperse with recurring creations; some skits rely on physicality, some on character, some on silly tonal tics, some on more direct gags. Some are silly, some are dark. It could have been a mess, but it's fluid, elegant and skilfully executed and with a subtle but effective production design.
The show starts, just after midnight according to their chronological device, with a bedtime mime relying on a pullback and reveal; then the cheapest gag of the hour, another pullback in a nightclub scene. Yet by the end they've deconstructed the rom-com cliche of the airport dash, parodied the Martin Guerre story, and told a heartbreaking Irish misery memoir, all with subtlety and depth – and that's only a tiny percentage of the show.
As sketches bleed in and out of each other (admittedly substituting for strong punchlines sometimes), our talented duo become tapas-loving birds, tough Yorkshire boxers, a well-heeled couple in reverie about their party excesses of the 1970s. The Swedish cyclists were their weakest creations, and even they have some silly parodic value. In another routine they mime a jazz band, aptly since many of their sketches have a syncopated feel, displacing the expected beats and flow.
Even well-worn tropes such as the personal development coach is invigorated with a dynamic, exaggerated delivery from Perryment with his thrusts and his gurns. You'd earmark him as a familiar character actor of the future; his well-worn face is older than his years, conveying a suburban everyman, wonderfully expressive when needs be. Though that's not to denigrate the more fresh-faced Barnes, who's versatile and affable.
Some of their sketches are precisely choreographed, yet in others they allow a looseness. Perryment corpsed a couple of times, and they ad-libbed around some external noises, bringing a humanity to their slick, classy performances. Ones to watch, for sure.
Review date: 28 Aug 2016
Reviewed by: Steve Bennett
Reviewed at: Bedlam Theatre
Recent Reviews
What do you think?