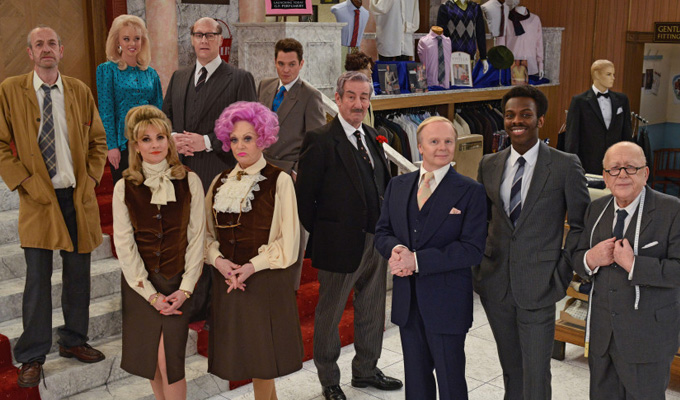 Are You Being Served?
So this was the golden age of the sitcom? Of all the comedy greats there have been, the BBC is kicking off its celebratory season with a new episode of Are You Being Served?, more than 30 years after the last. But they should have let sleeping pussies lie.
Mr Humphries, Mrs Slocombe, Captain Peacock and the rest of the Grace Brothers staff are back with an episode that could have come straight out of the Seventies. That was the intent all along, but begs the question… why bother? 
The cast mainly do decent impersonations of the originals – although the core stars Mollie Sugden and John Inman prove to be inimitable –  and that's the only slight point of interest. Best at recapturing their forebears are Justin Edwards as the slightly pompous floor manager Mr Rumbole and Roy Barraclough as the superannuated Mr Grainger – whose support of the drive to bring the department store into a more modern age is nicely counterintuitive, but doesn't amount to much.
Quite what that plot means is anyone's guess, though. Mr Rumbole has a computer he hasn't plugged in - that's about the extent of it. Other stories have caretaker Mr Harmon (Arthur Smith) smuggling some swanky food into the department from a function elsewhere in the building and Mrs Slocombe suffering a smelly discharge that affects her pussy.
If you never saw the original, the cat/vagina confusion was the basis for a good share of the jokes. Golden age, remember. So of course, the writer of this episode, Benidorm creator, Darren Litten, milks that innuendo, and countless more besides. You can guarantee that when a Heimlich manoeuvre happens someone will do a double-take assuming – as you would – that two members of staff are buggering each other on the shop floor.
Every joke is predictable, tired or forced. 'Do you know Simple Minds?' Mrs Brahms asks of Mrs Slocombe, talking about the 1980s band. 'No, but I've worked with a few.' The studio audience guffaw at everything
Mrs Brown's Boys showed a strong demand for retro-style sitcoms that the critics hate, and Are You Being Served? could fall into the same category. This one-off will probably get decent ratings, as viewers are curious, but you'd have to be a pretty hardcore fan of the original to enjoy it. And even then, why not just watch a repeat?
Review date: 28 Aug 2016
Reviewed by: Steve Bennett
Recent Reviews
What do you think?