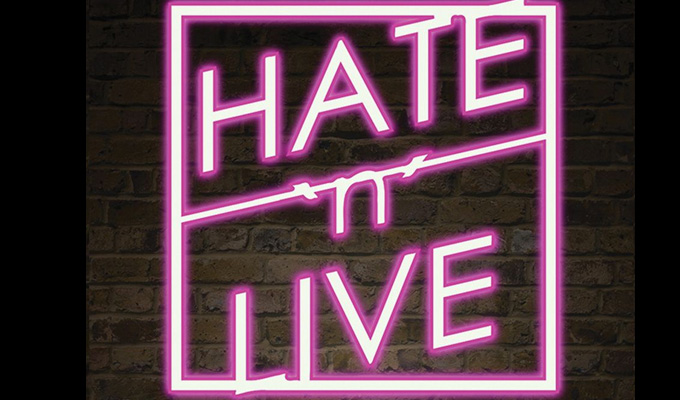 Hate N Live
Not so much Set List as shitlist, the premise of this raucous late-night format is simple: the audience suggest topics, and the panel of comedians must use their improvisational skills to lay down the hate.
There are a few variations on that theme for the sake of creating different rounds, but the idea is constant, and bad taste rules. In his preamble, host Darius Davies creates a contract with the audience that they mustn't take offence; this is a safe space for comedians, not your precious soft sensibilities.
There's vast differences in the potential of subjects pulled out of the basket. Kim Kardashian and Donald Trump came up tonight… begging the question of who felt so deprived of hearing jokes about these two they needed more. Worse, someone suggested Ian Watkins of Lostprophets – and as contestant Rob Mulholland pointed out, it's not exactly a challenge to hate a baby rapist. Maybe Davies could have rejected some of these before presenting them to the team of 'gladi-haters'.
But best suggestion of the night: Tell us why you hate the people who jumped from the Twin Towers on 9/11, now that takes some moral somersaults to justify.
The contestants tonight had different approaches. Co-creator Leo Kearse prefers shorter jokes and puns; Russell Hicks improvised longer stand-up routines from each premise; Radu Isac went the weird route; and Mullholland tended towards the more fanciful.
But even given those varying styles, it's a bit one-note given the unbending brief to be hateful. There's also a very laddish vibe. I'm sure they sometimes have women on the bill, but it seems a particularly dick-swinging type of comedy. Which is exactly what their rowdy crowd want, as they get fully into the raw, blowing-off-steam spirit which suits the late-night slot.
Hate N Live clearly taps into the spirit of the roast, and indeed one round involves hurling as many insults at host Davies as possible. And throughout the hour, the poisoned banter between the acts was sparkier than the formatted rounds.
Haters gonna hate, but this show, now in its third year, is a lively and popular contribution to the late-night landscape.
Review date: 27 Aug 2016
Reviewed by: Steve Bennett
Reviewed at: Laughing Horse @ The Free Sisters
Recent Reviews
What do you think?