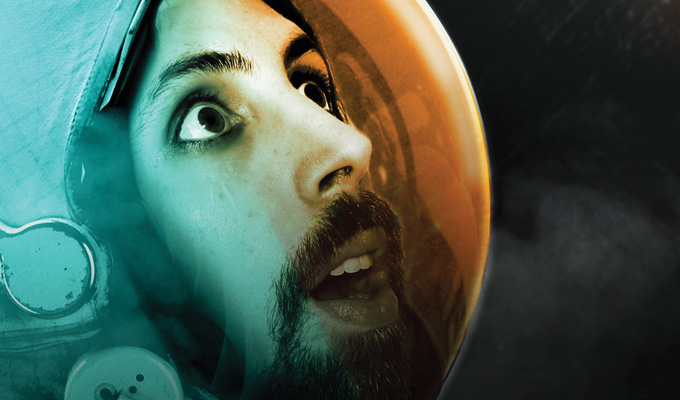 Eric Lampaert: Alien Of Extraordinary Ability
Note: This review is from 2016
'Alien' has three meanings: extra-terrestrial, foreigner and weird. Eric Lampaert is at least 66 per cent of these.
Already British and French, he recently become a US citizen, too, after marrying his American cougar, a wife who's just six months older than him, but enough for relentless piss-taking from a comedian with a peripatetic mind. 'I'm always like this,' he tells us, insisting his propensity for strangeness and over-thinking is not a stage affectation.
Getting a passport meant he had to undergo an immigration interview with po-faced officials – 'alien of extraordinary ability' being the visa that non-immigrant performers need to work in the US. Not that this is a show where the political aspects of migration and Brexit are given central roles, it's far more self-centred and daft to get stuck into that.
The 'interrogation' about his drugs usage, mental health issues and possible genocidal links (a bit hack this last one), is entertainingly rendered here via eccentric video sketches featuring Joz Norris and Eleanor Morton as Mulder and Scully, with plenty of nods to the X Files playing to the 'alien' treble meaning. It's not the only cultural reference point you need to be on top of: Silence of the Lambs is another that keeps coming back – including a memorable finale – although tonight's audience struggled.
He hears voices in his head, he confesses, only to get back the medical opinion: 'It's the best place for them', leading to a nice bit of physical clowning. In some previous years, his over-active mind has led to fizzy, unfocussed work – but here his weirdness is mostly controlled, with only a few WTF? moments in a show that otherwise holds together very well. Though he still might be a little to odd to get on to the Apollo – whether the shiny-floored stand-up showcase or the NASA space programme, since he says he wants to be an astronaut.
The various meanings of 'alien' tie up when he looks at the Pale Blue Dot photograph Voyager 1 took of Earth as the probe left the solar system. How can immigration controls make sense to stop people moving within a single pixel in the near-infinite expanse of the universe, he wonders in a rare moment of philosophy.
Also aboard Voyager 1 was a golden record, containing images and sounds from Earth, just in case an alien technology stumbled upon it. Lampaert has a fascinating riff on some of the odd choices, though this routine could be clearer and tighter, as it becomes repetitive. There are a few other disappointments in the show's duration – reading out the potentially awful side-effects from any medication is old hat – but Lampaert always keeps the affable energy up
Alien Of Extraordinary Ability is well-constructed and frequently funny, even if some individual routines need work and some of the weirdness, especially a threads-tying-together finale, feel a bit contrived. But it's a fun hour with a wide scope.
Review date: 27 Aug 2016
Reviewed by: Steve Bennett
Reviewed at: Laughing Horse @ City Cafe
Recent Reviews
What do you think?