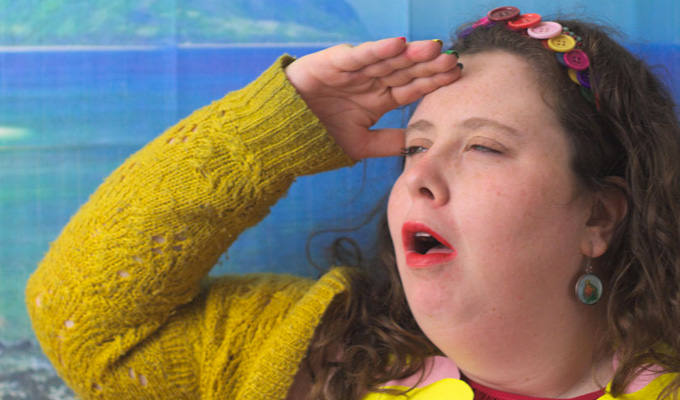 Alison Spittle Discovers Hawaii
Note: This review is from 2016
Alison Spittle garlands every member of her audience with a lei as they arrive into a room bedecked with inflatable palm trees and flamingos, and with a temperature to match Honolulu in peak season.
And that's the only link with Hawaii you're going to get.
The title was apparently chosen so as not to give anything away that might put people off; for Spittle spends much of the show dealing with her two mental breakdowns, religious background and the death of her grandmother. So let the laughs begin!
Spittle is a sweet-natured comic who talks with honesty about her lowest moments and the voices in her head. It's a natural performance that very much feels like a friend confiding in you, so the audience easily empathise.
It does, however, come at a cost of comic impetus. The stories are flecked with little jokes, and a couple of the incidents – especially peeing in a pint mug due to paranoia caused by a couple of break-ins at her Dublin digs – have obvious comedy payoffs. But there's not much building momentum or hitting punchlines hard in what often slips into conversation.
Actual jokes – or at least ostentatiously contrived jokes – come in the half-time break where the audience play her version of Joke-oke, in which the audience supply punchlines to her super-contrived set-ups. You wouldn't say they were good gags, but it combats the traditional lull and cements the easy bond between comedian and audience.
There is some solid material to mine over course of her story, such as the fiercely Catholic family trying to deal with the death of atheist granny – but also a bit of filler. The closing routine about watching Junior Masterchef with her boyfriend feels parachuted in from her club set. But does provide probably the strongest laugh of the afternoon, certainly enough to close the show.
She says she's using her Edinburgh hour to put incidents into perspective, to conquer her embarrassment. Her message is that suppressing feelings is not good, and it's all warm-hearted stuff.
While she's not super-effusive, she does share events with honesty and likeability. Spittle might not knock your socks off, but she may charm them off.
Review date: 26 Aug 2016
Reviewed by: Steve Bennett
Reviewed at: Laughing Horse @ The Counting House