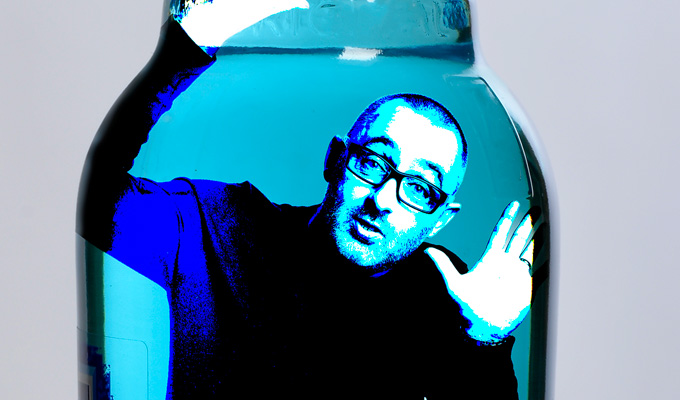 Paul McMulan: Alcopop
Note: This review is from 2016
There's never normally much obvious pressure on an audience to make a show a success. But Paul McMullan has a bottle of vodka poised on stage, an insurance policy in case the reformed alcoholic feels the crowd isn't responding positively enough to his debut hour.
Relationships, likewise, were always a hostage situation when he was on the booze. And the south Londoner, sober since 2007, is open about the damage and hurt his drinking has caused.
An IT professional in the City of London for whom unscheduled four-day weekends became the norm, he was fired for being too candid about his drink and drugs consumption with his superiors.
Surprisingly perhaps, his teenage sons came to live with him rather than his ex-partner - who's never elaborated upon - even as his life continued to spiral out of control. These canny future businessmen perceived that McMullan was a soft touch under the influence, coming round to realise he'd sanctioned the acquisition of more dogs. It was they that cruelly dubbed him 'Alcopop'. But once he quit, they also reversed the parent-child relationship, monitoring his soft drinks for tell-tale whiffs of spirits.
There was no great revelation that prompted McMullan to clean up his act, simply the condescension of a dope-smoker acquaintance advising him to quit. But it followed a catalogue of degrading and embarrassing episodes, including a late night effort to convert to Islam and eviction, with the retreat of his family to one of the roughest estates in London.
Without seeking to excuse his behaviour, McMullan paints a vivid picture of the culture in his Belfast family that drank to celebrate, commiserate and just generally pass the time of day. When they moved to London, the schoolboy relied on alcohol when he was bullied for his accent. Still, he doesn't damn the demon drink as inherently evil, acknowledging the part it plays in lubricating social situations and heralding the emboldening role it played for his obese friend acquiring his attractive wife.
McMullan strives to put his own struggles into a wider social context, though this tends towards broad stereotypes of binging behaviour and a rather clunky imagining of Luke Skywalker and Darth Vader on the Jeremy Kyle Show. But he's wry and occasionally perceptive, reflecting capably on the impact of social media on the modern barfly who can't remember the night before.
There are echoes of Micky Flanagan in his current accent. But he doesn't have anything like the same acute levels of observation for the quirks of British nightlife, evoking phenomenon like the 'erection section' of slow dances in ways that'll be entirely familiar to listeners of a certain age, with little new to add.
The redemptive nature of McMullan's tale tends to make his hour a slightly, well, sobering affair. But it's a dauntless introduction, competently delivered with plenty of self-deprecation and baseline positivity, reinforcing its day-at-a-time takehome message with an uplifting conclusion.
Review date: 24 Aug 2016
Reviewed by: Jay Richardson
Reviewed at: Pleasance Courtyard