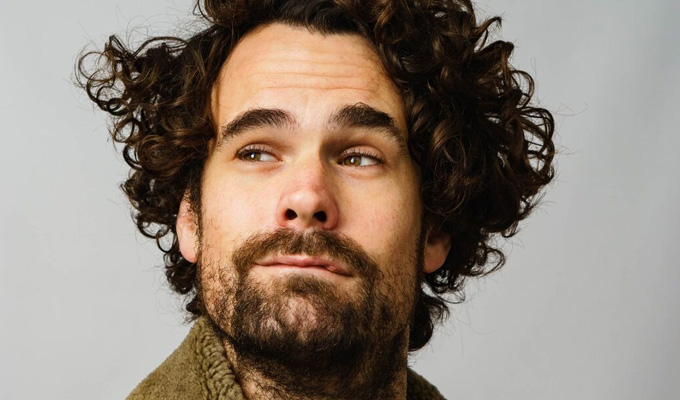 Paul F Taylor: Sour Apes
Note: This review is from 2016
There's more than a touch of Harry Hill to Paul F Taylor, in the way he can take imaginative, surreal ideas and hone delightfully silly jokes from them.
It means he gets off to a cracking start, with a barrage of twisted one-liners absurd in origin and delivery, that keep surprising, and tickling the audience. Rather delightfully he likens his comedy to the middle aisle of Lidl 'because there's a lot of weird shit in it.'
They are whimsical, but loosely based on something real, and he delivers with verve, commitment and a distinctively daft cadence. His tone is a bit grumpier, a bit whingier, than other comics of a similar genre, too, giving him a slightly different place in the comedy firmament.
Words and images are twisted, and there's a lovely routine about mime, deploying the usual comic trick of taking the action and revealing it not to be what was expected, but ramping up the idea to the nth degree.
After assuring us of his distinctive comic talents with such strong material, Taylor speaks a lot about falling between two stools in comedy. Which he illustrates with two actual stools. On one hand, the club comedian, making a decent living but maybe artistically unfulfilled, on the other, the holy grail of being a touring comedian able to sell tickets under his own name.
Taylor feels he might be getting too strange for the clubs – which would be a sad inditement as once they nurtured acts like Hill – while the tour seems unattainable. And if he can't make this work he will suffer the ultimate ignominy: a return to an office job.
There's some irony in the fact that Sour Apes's troubles stem from Taylor getting too hung up on embroiled in the trappings of this being a show, rather than just an hour-long set. The first 20 minutes – the standard club set length – are brilliant, but then things get more indulgent as material's forced to fit an arbitrarily more substantial shape.
Extended sketches go on a bit too long, and seem artificially hooked on to themes that the audience don't really buy into, such as the Infinite Number of Monkeys bashing out Shakespeare. They call back to each other, but that serves only to emphasis the forced nature of such sections, even if they do lead up to a visually memorable - and suitably ridiculous – finale.
Sadly, it doesn't seem like this, his fourth solo hour, is going to be the show to propel him to that second stool.
Review date: 24 Aug 2016
Reviewed by: Steve Bennett
Reviewed at: Bannermans
Recent Reviews
What do you think?