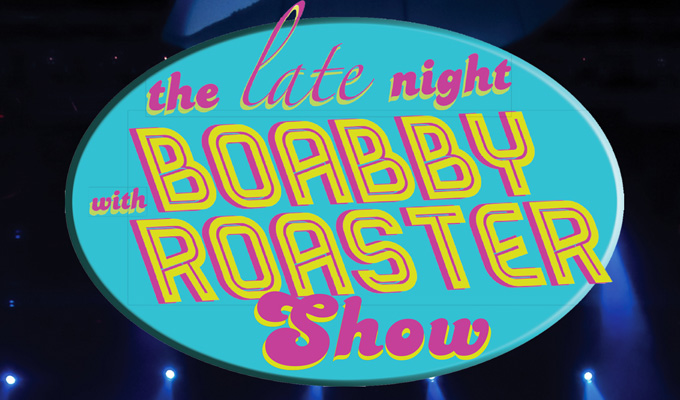 The Late Night With Boabby Roaster Show
Forget the promised chat show format, it's a red herring. There's only one interview in The Late Night With Boabby Roaster Show, which is otherwise a character comedy showcase for Glaswegian Andrew McBurney and Brummie Jack Kirwan.
In fact, whenever they do remember to invoke the alleged format the show stumbles. Case in point is the opening sketch where McBurney plays Roaster – dour, deadpan and not exactly the Mr Showbusiness you might expect. That personality falls to his successor, Jackie McAllstar, and they engage in some stilted to-and-fro, exchanging insults, but nothing really zings.
Then McBurney appears in his own stand-up persona, initially little different to Roaster's as he explains how depressed he has been since his girlfriend left, a misery he's going to mask with some comedy. He's got a shower of bad jokes, but they only increase his heartbreak, and he sobs out the punchlines as he chokes back the tears. This is a wretchedly funny performance.
Then a sharp left turn as he describes himself as the Kanye West of stand-up – because he's bad at it – then starts emulating his comedy heroes, black American comics from the 1980s and 1990s.The parody is great, transforming his voice, and peppering his corny swagger with an Eddie Murphy 'huck, huck' laugh and airhorn blasts from his sound board. Seems McBurney can do more than one character after all, and the change in gear gives the energy a leg-up.
Kirwan then returns in the guise of Gary Powndland, a local resident complaining about all the disruption the Fringe is causing. 'What a proper what-a-joke,' he says in his nasal whine, creating a peculiar catchphrase before expanding his gripes into weird stories of seeing off the TV Licence inspectors with the help family of foxes who live with him. It's an entertaining slice of suburban absurdity of which Vic & Bob might be proud.
The sketch with McBurney as a hapless comedian receiving his performance instructions through an earpiece was clunkier, and the 'reveal' not strong enough to justify it; while the show closed with Kirwan as Jack Marrowfatpeamouth, the singer with the world's smallest mouth – enjoyably surreal but not a joke that could be sustained – and McBurney as his stalker.
Splitting up the live performances are films by Damien Hyde, most notably To Me… a funny if bittersweet documentary about Barry Chuckle's sad life after the death of his comedy brother Paul sometime in the future. There was a nicely ironic short about dole scroungers, too, and well-made Bella Lugosi spoof, Carnival Of Arseholes, a psychedelic warning in stark black-and-white about the evils of drugs.
The films were certainly more consistent than the live sketches, but even then a good half made good on the promise of their off-kilter set-ups. Not TV-ready yet, then, but solid flashes of promise.
Review date: 24 Aug 2016
Reviewed by: Steve Bennett
Reviewed at: Just The Tonic at The Caves
Recent Reviews
What do you think?