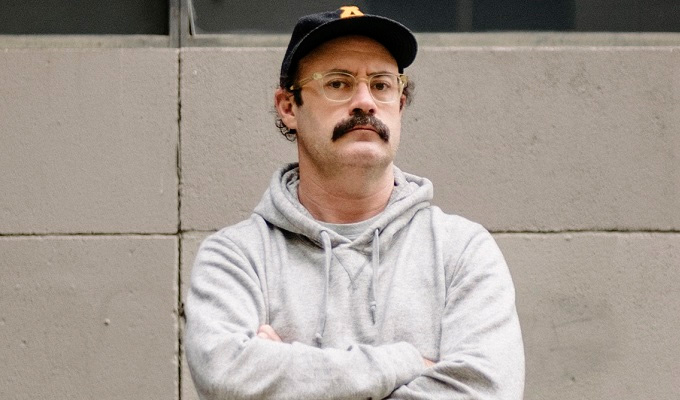 Sam Simmons: Not A People Person
Note: This review is from 2016
Sam Simmons acts as his own usher, jollying people from the foyer to their seats. Then he spots me. 'Aw fuck!' he booms across the room. 'You're not reviewing this are you? It's an extra show!' He leads me to a spot he'd like me to take – behind a curtain at the side of the stage – before reluctantly, I think, allowing me into the bleachers.
During the show itself a couple more comments come my way, imploring me not to record self-effacing comments as he deems whatever bit of absurdism he was doing to have faltered. And afterwards, in the corridor, he shrugs: 'Don't review THAT. That was unreviewable…'
A specially bad gig? It's hard to tell, because he's always doing this. Always. Beating up either himself, or more often the audience for not getting on board with unconventional material. Added to which, he's drawing the crowds after Spaghetti For Breakfast scooped the top prize here last year, bringing a new audience unfamiliar with his strange ways. He's making no concessions to them, either, as Not A People Person is less accessible than the award-winner, with none of the autobiographical segments that might help place him.
The attritional war of wits between performer and audience certainly appears to have escalated more than usual in this late-night slot, as throws his hands up at several bits that don't go as he'd hoped, resignedly saying 'OK, fair enough', or telling us the 8pm crowd loved it, or drawing attention to the fact the atmosphere's weird. And he got particularly antsy with people nipping to the loo, assuming a walk-out and living up to the show's title.
So what's the about? Well I'll describe it, but I'm not sure it'll help. It's based around a quote attributed to Beach Boys genius Brian Wilson, who recalled being so drugged up that he was convinced he had the body of an eagle and half an orange for a head. Has any Edinburgh show been built on anything so obscure?
Yet from this Simmons spins off an hour of peculiar sketches to a pre-recorded soundtrack, with 'birds' being the loosest of connecting threads for this former zoologist (an animal person, not a people person). He recalls watching a cherry tomato trundle across a train platform, which could be a metaphor; mulls euthanasia, which some of the show could be a metaphor for; or suggests eating the poor, a modest proposal.
Some images are intrinsically funny, such as him opening in karate garb and with the hands of a kangaroo, struggling to grasp the microphone . Then there are a bits which are - relatively speaking – close to traditional stand-up, describing seagulls as airborne junkies, or pondering the logos of chicken takeaways. But most of the laughs come from an incredulous 'is he really doing this?' place.
You won't see anything like Simmons's strange comedy anywhere else on the Fringe, and even with a bumpy ride he produces some memorably ridiculous scenes. He's not for everyone – I can't stress that enough – but if you think you might like some WTF? weirdness, he's your man. Or man/bird/kangaroo chimera stripped to his undies.
Review date: 24 Aug 2016
Reviewed by: Steve Bennett
Reviewed at: Underbelly Potterrow
Recent Reviews
What do you think?