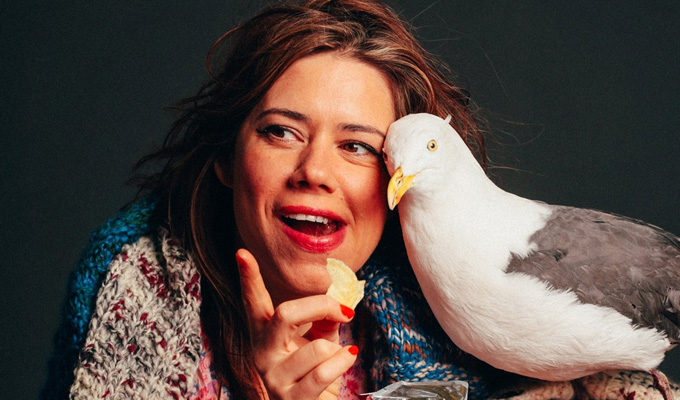 Lou Sanders: What's That Lady Doing?
Note: This review is from 2016
What on earth are we to do with Lou Sanders? She's one of the few comedians who can make me laugh from the second she gets onstage. A mischievous smirk here, some idle chit-chat there, and I'm in. I believe it's called having funny bones.
Getting an hour show that brings out the best in her is another matter. I'm not suggesting she should come on stage and stand there smirking for 60 minutes (mind you …)
When I think about what was funny about What's That Lady Doing?, it's mostly just Sanders, being herself. By that I mean her asides, her running commentary to herself – when she accidentally reveals the name of someone she shouldn't (which seems real), it was genuinely hilarious. Or the constant battles with herself to focus and stay on topic. It's the way she tells 'em, I suppose.
But it's the actual routines – the meat of the show – that hold it back. It's too fleeting and inconsistent for the show to be a thing of unalloyed joy. There were several bits that I absolutely loved – like her attempt at doing earnest beat poetry and a later routine-let about her Uncle Roger's personal hygiene. Her character 'scat lady', though, and 'genderless Michael'? Good lord, no. I can't think of many other comics who oscillate so wildly in the space of one show.
The benefit of nothing hanging around, though, is that you have some fresh slice of lunacy to digest roughly every 30 seconds. A couple of pieces could have been given a bit more airtime, like her 'tips for life', and her beef relating to the Fresh Prince of Bel Air's theme tune. Equally, a few parts very obviously went on too long, such as an early part about tights which seems only to be there for structural purposes judging by the lack of punchline, and the portrayal of herself thinking about cake to illustrate how mundane she is.
Which leads us to the theme of the show – a slightly surprise inclusion given how scattergun it is. 'What's that lady doing?' is an audience reaction while watching Sanders' show last year (I can't think why) and she wants to refute the allegation of being a bit 'mad' – a pejorative term, and one that's used disproportionately to describe women. It's not a theme explored in depth as such, but it is the inspiration for some of the stories and gags.
Ultimately the show was a kettle that never quite boiled. It rumbled along, but never quite got that click. I wonder whether Sanders might be in some ways similar to Lewis Schaffer (stay with me), in that they're untweakable. They are as they are; tamper with the recipe even a little bit and you've ruined it. Neither of them I would change for the world, but just how do you translate their personalities into a truly brilliant show?
Review date: 23 Aug 2016
Reviewed by: Paul Fleckney
Reviewed at: Pleasance Dome
Recent Reviews
What do you think?