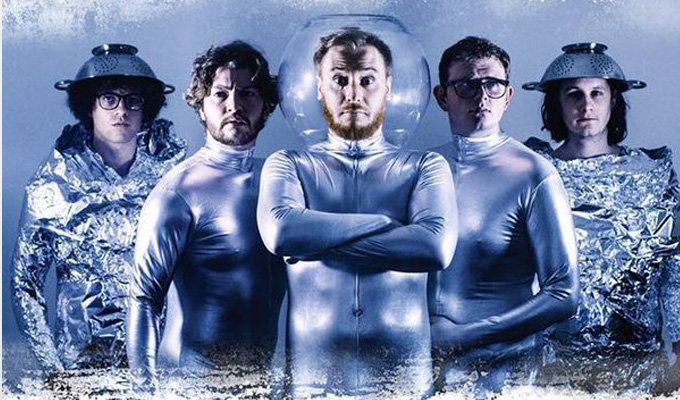 Sleeping Trees: Sci-Fi?
The Pajama Men aren't in Edinburgh this year, but Sleeping Trees are probably the next best thing if you're seeking sprawling multi-character narrative comedy with inventive execution. And there are 50 per cent more of them.
Sci-Fi? is a space-age epic in which a young orphan farmer boy must learn to harness a supernatural power within him to battle an evil father figure and controller of armies who has the power to throttle people with his mind. An entirely original story, then.
The trio – Joshua George Smith, John Woodburn and James Dunnell-Smith work their little space socks off rattling through the narrative, with brisk, lively choreography to whip from scene to scene, character to character. The establishing opening sketch, in which they play a galactic council speaking in perfect unison shows what a well-drilled unit they are, not a split second out of sync.
The clamber over each other to strike the perfect pose or join forces to create giant characters or human props, such as the wormhole portals that zip them between worlds – a device that lets them crack through a barrage of short visual gags, from the Planet Of Sadness to a place where you'll die if you blink.
The main story is full of fast-paced action and derring-do, the trio becoming robots with guns for hands, pigs (very neatly explained by oinking 'I'm a pig' in a pretty close approximation to an actual porcine noise), motorbikes, whatever.… Meanwhile a jazz-fusion duo add an atmospheric soundtrack, often reminiscent of the original radio version of The Hitchhikers Guide To The Galaxy.
There are a plethora of references to sci-fi classics, but this is less an overworked genre spoof than it is a convenient theatrical framework for their jokes, which tend to be visual. There are a few puns and other weak gags that are sold hard, but the hope is that the pacy, high-energy spectacle and inventive execution is enough; and it mostly is.
All three are phenomenal performers - rich-voiced and brimming with verve, clearly delineating characters, which is essential in an involved story like this. They seem torn between the discipline needed to get through the packed script, and wanting to digress off into tangents to make each other (and the band) laugh – and the few occasions they do, adds a welcome looseness to proceedings.
Sleeping Trees are sometimes more impressive than funny, but either way Sci-Fi? is a spry romp fizzing with invention.
Review date: 20 Aug 2016
Reviewed by: Steve Bennett
Reviewed at: Pleasance Courtyard
Recent Reviews
What do you think?