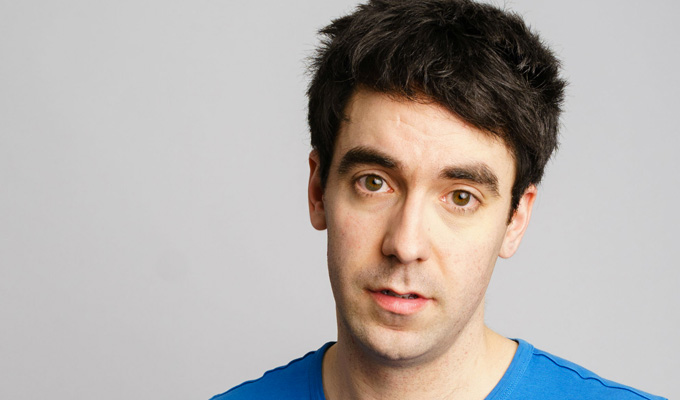 Adam Hess: Feathers
Note: This review is from 2016
I think I must have had my playback settings wrong for Adam Hess's show, for it sounded like it was coming out at double speed.
No man could surely speak that fast for an hour, packing in so many gags and covering so much ground. His manic, twitchy style throws away jokes under his breath that some comics would build a whole show around. Conversely, if he can't think of an end to a thought he just lets the sentence fade away, in his urgency he hasn't got time to waste on full stops.
He's giddily happy to be here and share his stories, gushing them out like an overexcited child keen to relay the day's events while they are still fresh in his head. The pace compels you to listen intently, lest you miss a gem. That, and the fact that the stories at the heart of his sophomore show have an inherent 'what happened?!' cliffhanger to keep the audience transfixed.
The anecdotes mainly centre on his acute social awkwardness illustrated with two high-stakes incidents when making a good first impression is paramount: a first date and an interview for a TV job. Needless to say, in both situations, he conducted himself with the decorum and grace of Mr Bean, his many anxieties getting the better of him. The stories are epic slapstick, each effort to style out his embarrassment landing him in increasing peril.
If you think he's odd, there's an indication here of where he might get it from, given the peculiar revenge his mother takes on junk mail companies. Not that his parents understand a scintilla of what he does: from the teenage years spent writing jokes in his bedroom that have paid off a hundredfold now it's his career, to their fundamental misunderstanding of how a stand-up show works.
This serves as a preamble and occasionally recurring theme, along with tales of a parrot that gives the show its title. Elsewhere, to fill what might be considered chapter breaks in his yarns, Hess rattles through batches of unrelated one-liners, most probably culled from his prodigious Twitter feed, a treasure trove of short, odd, and distinctively funny gags.
A maelstrom of great lines and hilarious images, Feathers proves Hess has stepped up his game even on last year's impressive newcomer-nominated debut, to produce one of the most out-and-out hilarious shows on the Fringe. You'll be exhausted just watching it.
Review date: 20 Aug 2016
Reviewed by: Steve Bennett
Reviewed at: Heroes @ The Hive
Recent Reviews
What do you think?