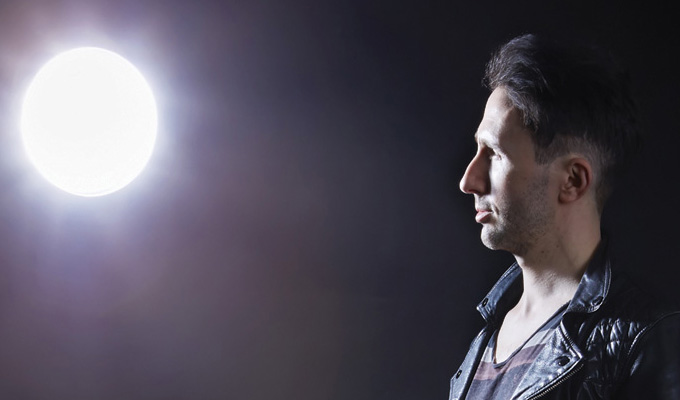 Nathan Cassidy: 42
Note: This review is from 2016
Nathan Cassidy has always been a tricksy comedian, loving a bit of a gimmick. And his latest Fringe show is no exception.
The premise is that he's seeking the meaning of life and the key to happiness. Thanks to Douglas Adams, the number 42 will forever be associated with that greatest of existential questions. So Cassidy has compiled a list of 42 things that make him happy, from much-loved celebrities to holiday excursions. An audience member picks ten at random from a deck of cards, and that's how the show is constructed.
Has he really learned four times more material than he needs? The cynic in me suspects at least a smidgeon of trickery, especially as some topics clunkily segue into tangentially related anecdotes.
It also seems as if the gimmick has come first; it's not entirely clear why the card doohickey has produced a better result than telling a story straight would have done… but without seeing other versions, it's hard to tell. My maths may be wrong, but if all is legit there are 1.47billion possible combinations of ten cards out of 42, if the order doesn't matter, which would take 168,000 years to get through.
The stories are a mixed bag; his awkward meeting with a producer of a youth-skewed TV comedy shows him to be rather bitter, and it's pretty indulgent. But that's set off by a nice twist on the Birdman of Alcatraz legend. Best of the bunch is when he speaks of his children – so often cited as the source of lasting happiness, but are they? Jokes about young Will being an almost-certain homosexual, which somehow seem naughty for Cassidy to be saying, but they work very well.
Cassidy's delivery is sarcastic and sometimes a little aloof, so it's a bit of a surprise to learn that he warms up for Britain's Got Talent and Clare Balding's show, jobs that would require a lot of bouncy energy. Still, this sideline provided the biggest laugh of the show, thanks a comment made on Balding's show – and the way Cassidy tees it up with building anticipation.
As well as the card device, Cassidy has also engineered an enjoyable stunt ending, not entirely original – one more established comic did a bigger-scale version of the same idea last year – but still the sort of 'only on the Fringe' moment that turns a show into an event. Did we discover the secret and life and happiness? Not conclusively, but Cassidy will make you that little bit happier for an hour or so.
Review date: 20 Aug 2016
Reviewed by: Steve Bennett
Reviewed at: Laughing Horse @ The Free Sisters
What do you think?