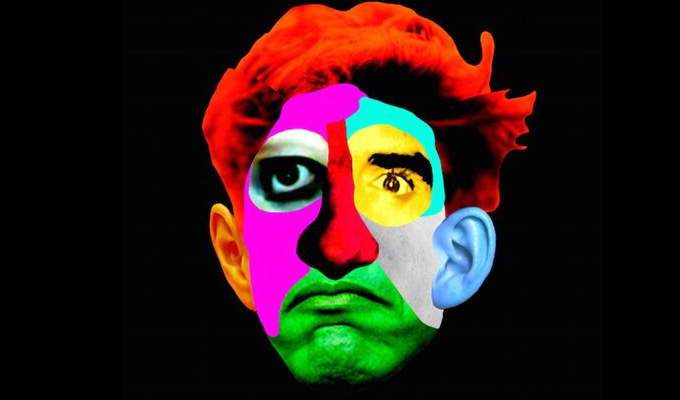 Simon Slack – The Fantasist
When we first meet Simon Slack, he is hunched over his laptop, furiously jerking off, in what becomes an exaggerated ballet of masturbation – a phrase that could well apply to the rest of the ensuing hour.
For this is a bold portrait of an isolated man, entirely absorbed in himself and the world he creates within the four walls of his bedroom. To further emphasis the point, there's an unhinged love story involving a puppet that's a grotesque version of himself.
Back in reality, his grandmother bangs on the door with concern for his well-being, urging him to come out to buy lottery tickets, anything to break his funk. Eavesdropped conversations from neighbouring rooms are his only contact with other people. On one side, a couple engaged in an bitter war of attrition, hurling multi-hyphenated insults at each other; on the other someone enjoying the stand-up of John Bishop or Jimmy Carr's most brutally offensive joke. Slack is trapped between comedy and tragedy.
There's also a suggestion the character is working on his own comic double act with his dummy, the Puppet 5000, but is distracted by one displacement activity after another. The man behind this disquieting creation, Rob Cawsey is half the often-brash sketch duo Guilt & Shame, so make of that what you will…
He performs the whole show in his grubby undies, and with a vigorous physically as a series of artfully presented sketches show the fantasy world Slack's troubled, lonely mind has created. His hallucinogenic 'bluey' pills unsettle things further, and at one point he even imagines an audience and has to perform to them – imagine! We get involved in the madness, but the participation is minimal.
Slack imagines going to parties, dancing to the Jackson Five and making sparkling conversation – but then his anxieties kick in, and deposit him back into desolate solitude.
There's a clownish aspect to some of the scenes, others are designed to disconcert, others still to energise. There are some laughs amid this mish-mash of styles, often for the audacity of the performance – though a Masterchef mash-up is a great standalone joke. But more than comedy, this is a visual and emotional journey; strange but just about rooted in a twisted reality.
Review date: 19 Aug 2016
Reviewed by: Steve Bennett
Reviewed at: Underbelly Cowgate
Recent Reviews
What do you think?