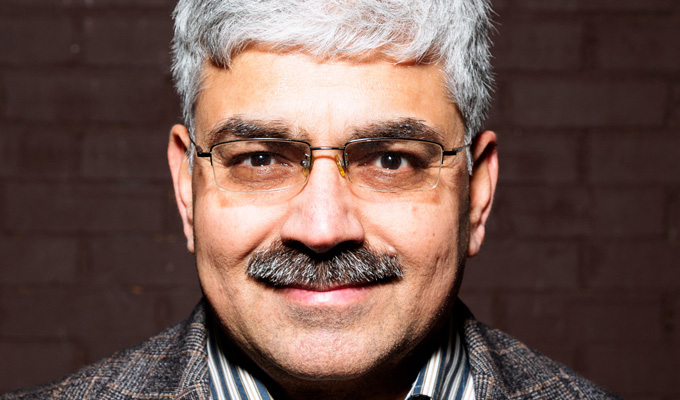 Mark Silcox: Helping Aamer
Anti-comedian Mark Silcox performed one of my least favourite shows of last year's Fringe, his wilfully unfunny talk on electrochemiluminescence and tediously deadpan poetry readings driving me to frustration. I compared it to Andy Kaufman's infamous stunt of reading the entire Great Gatsby to his unsuspecting and increasingly irritated audience – a great anecdote, but a terrible gig.
Silcox might hate me for saying so, but this year's offering made a bit more sense, since sense is not especially what he's after. It's still a strange show, with zero stagecraft or presentational zip, but there are a few more clues as to where this softly-spoken late-middle-aged analytical chemist is coming from.
Firstly, he opened with a recorded reading of Rudyard Kipling's If…, a paean to determination, modesty and stoicism that well-defined a personal mantra he seems to adhere to as a comedian ploughing his own furrow, not chasing a particular dream, with neither praise nor criticism getting to his head.
The second key change is that this whole show was dedicated to one trivial topic in needless detail, giving a coherent strand and point of view for the audience to cling to through the moments of deliberate tedium. There's now the expectation that he's actually going somewhere with this, so it's worth sticking with him, even when that belief seems very misplaced.
That topic is stand-up Aamer Rahman, the angry young(ish) man of Australian comedy, a fiercely political Muslim comedian who rages against white imperialism and cultural integration, and whose clip on 'reverse racism' has racked up 2million YouTube views.
Silcox, the ultimate zen comic untroubled by anything, not least punchlines, thinks Rahman needs some positive vibes sent his way. But not before he's offered cups of tea and boiled eggs all round. What sort of host would he be otherwise?
Juddering back into life after that break, Silcox offers some more positive alternative role models, from Australian comedy and beyond: smiling, happy photographs to contrast with the snarl of Rahman – a man who has accused Silcox's hero Gandhi of racism and launched a Twitter campaign against Iggy Azalea, an inherently funny name in Silcox's accent.
In determining what makes a man act so furiously, Silcox delves back into Rahman's family history, with endless suppositions of 'could haves' and 'might haves' in the story from his father earning an engineering degree in Bangladesh, to the comedian's childhood in Saudi Arabia to ending up in Australia. It's Silcox's dogged line of overthinking, utterly committing to what isn't even a joke, that makes it funny. It builds up so much tension that the biggest laugh of the afternoon came when he just took the microphone out of its stand. On the surface, absolutely nothing amusing about it, but the slightest shift in energy is enough.

There are a few lines – let's call them jokes – in his aridly dry description that get laughs for being off-kilter with what you might expect, even if what you expect is hard to define. The show ends with a few minutes of awkward silence before its payoff; yet we all sit patiently, not wanting to miss what happens next. It may be an anticlimax, but the stakes become such it'll be a funny anticlimax purely because we've invested so much.

This is not a show for a casual comedy-goer seeking an hour of clear, easy laughs. But Silcox, who has always been intriguing, is starting to find a way of making his quiet passivity work for a marginally wider audience.

Review date: 18 Aug 2016
Reviewed by: Steve Bennett
Reviewed at: Ciao Roma
Recent Reviews
What do you think?