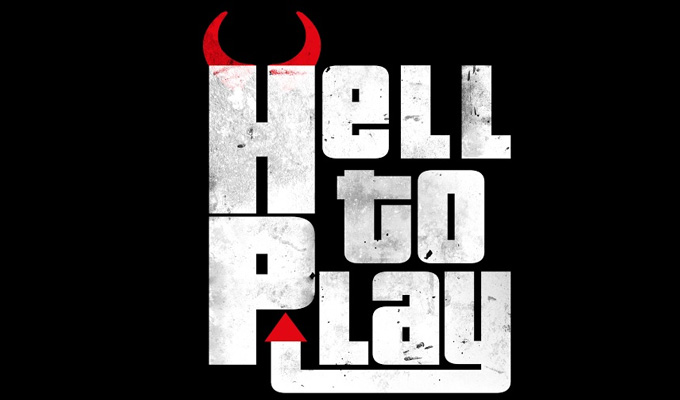 Hell To Play
It's a good idea for a game show: two comedians find themselves in purgatory and have to compete for the chance to save their souls, by answering questions posed by history's most evil monsters.
But Hell To Play gets rather too congratulatory about its own claims to be in abysmal taste, when, in fact its pretty superficial, just mentioning awful subjects without really going all-out to offend. So yes there are Hitler, and Princess Diana, or Madelaine McCann jokes but you hear worse in comedy clubs all the time. If bad taste is your only angle, you've got to be more brutal than this, which is more akin to Cards Against Humanity – comedy reduced to a list of trigger words, all wit removed.
The other problem is with the game show element, with rounds not well-enough designed to allow comics to ad lib answers – instead they have to put a lot of creative energy into just grappling with the format, with set-ups that were too narrow or too broad. In one round, they were asked how to punish certain people in hell – but the categories were wide: 'Homophobes' inevitably being condemned to be 'arse-raped'. How much more inventive would it be to design more specific tortures for Michael Gove, say, or Donald Trump?
Tonight, 2015 Chortle Student Comedy champ Andy Field made the best of a bad job, but Loren O'Brien will probably be the first to admit that improvising is not her forte, and most of her answers hit a brick wall of hesitancy, frustration and swearing.
Neither seemed particularly well-briefed either. It wouldn't be cheating to give them an advance look at the challenges if it made for a more fluid show. As it happens, it was all a bit of a struggle, with the best answers coming from the audience. Or rather from Nottingham Comedy Festival staffer Elliott Bower, who happened to be in, and saved more than one round from total embarrassment.
Creator Alexander Bennett hosts as The Devil with sidekicks Paul Savage and Joe Hart, who co-wrote it, taking on various guises to pose the questions. First Hitler, who does some Nazi salutes (Frank Sanazi, he is not); then Chad McJockerson, an archetypal American college misogynist, who had been murdered by a spree killer.
This was the round that worked the best, as the contestants had to insult the insecure shooter as much as possible until his fragile self-esteem broke. Though in this case a freeform round might have allowed the comics to use any putdowns or 'yo mamma' jokes in their arsenal, rather than being required to devise very particular lines about, for example, his lack of friends.
In other rounds, News UK chief Rebecca Brooks as dominatrix and Andy Coulson as her gimp was a nice image, though their section involved mainly shrill shouting; and real-life former chief constable of South Yorkshire Peter Wright was a remarkably specific reference. Although his gags were the same old ones about all coppers being racist and cause suspects to 'fall down the stairs' in custody. There might still be truth in that, but Wright's main claim to infamy was covering up the truth of the Hillsborough disaster, and that wasn't mentioned.
There's a grain of something in Hell To Play, but those involved seem to have the over-confident air that they've cracked it. But it needs a lot more development yet, for the devil is in the detail.
Review date: 17 Aug 2016
Reviewed by: Steve Bennett
Reviewed at: Underbelly Cowgate
Recent Reviews
What do you think?