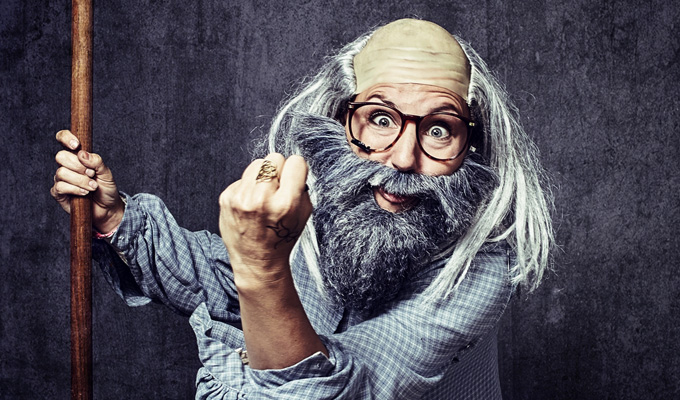 Marny Godden: Where's John's Porridge Bowl?
Moses, a cute fluffy dog and a lager lout having an existential crisis are among the line-up of mercurial characters in Marny Godden's show. If you saw her former sketch group The Grandees you'll be familiar with her hyperreal style of comedy, and in solo form she makes a good character comic and clown.
She offers no easy way in with any of her characters, almost wilfully keeping us in the dark while she drip-feeds information out. It's a little frustrating at times but it makes for a slow-burner of a show, one which forces you to invest and meet the performer halfway. For those who did stick around (it was a bit much for one couple) it meant the show got better as it went along, as you gain in trust in Godden and get attuned to her pacing.
Her slowly-slowly style paid off sporadically: her lager lout, once it became fully formed, was probably the strongest and most substantial, singing a plaintive song reminiscent of Sleaford Mods about the meaning of life (or lack of). There was a hint of John Kearns to him, offering poignancy, and some quite Kearnsian cadences to his speech.
I also enjoyed her dog character, who turned out to be a 'truther' railing against the lies of the mainstream media, even if some of the actual joke-writing left a bit to be desired. Sometimes the stringing-out was counter-productive, though, particularly as there were so few in the audience and momentum was at a premium. On occasion, it felt like something had gone wrong, and/or that it was our fault for bringing things to a temporary halt, which isn't a great feeling to have.
The title – Where's John's Porridge Bowl? – refers to the character of Moses who bookends the show and launches an investigation into the theft of the bowl, which belongs to a selected person in the audience. If anything the setup at the start was more amusing and intriguing than the resolution at the end, which was suitably silly but lacked oomph.
At times it was out-and-out clowning and playing around, some of which felt like inconsequential filler, but when Godden really asserted herself on the reticent audience, it was successful. Being able to see her changing character through a panel-less room divider was also a nice touch, her breezy, cheerful grin a human touch that cut through the wackiness.
Review date: 17 Aug 2016
Reviewed by: Paul Fleckney
Reviewed at: Heroes @ The Hive
Recent Reviews
What do you think?