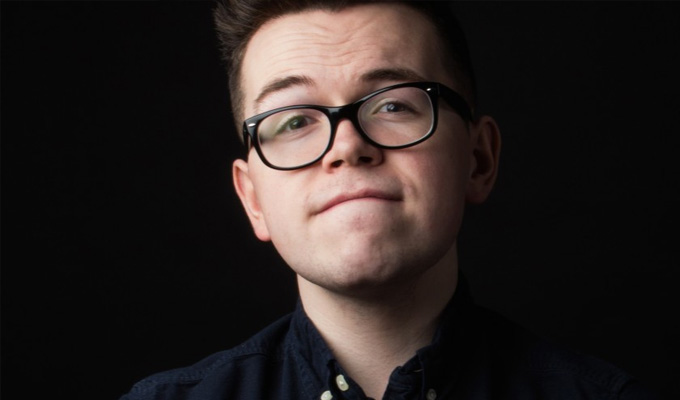 Christopher MacArthur-Boyd and Rosco McLelland
These two share a comedy hour, not a double act, and their contrasting styles make it properly varied. Rosco McLelland, tall, bearded and rangy, opened with some standard compering asking about a third of the audience where they came from, what they do. As an aside, it was interesting to me that the men were asked what their partners (present in the room) did, and then answered for them. No malice involved but strangely Victorian.
McLelland is drawly and charming, messily dressed, full of chaotic energy and dash, but prone to long stories without much meat on the bones and some daft games which may work with a bigger crowd of students or young people but a bit bemusing for a slightly older, slightly timid crowd expecting a show. Great for kids, less certain for adults.
He's loud, in-your-face, but likeable. I just wish there was more writing to catch up with his personality. If there's a fault it's that he seems to be of the mind that as long as it's him saying it, it will be funny, whereas it needs a strict editorial eye going over a script rather than just flying with it.
Christoper MacArthur-Boyd by contrast is a young looking man-boy of fastidious presentation and enviable hair and a laid-back, precise and calm delivery. He has punchline-based jokes and a nice line in self-deprecation. He could do with a bit more of his partner's zip but it's refreshing to see someone have the courage not to bluster and dash and let his writing speak for itself.
Each one brings something properly Fringy to the table – neither is the finished article, but both show promise and the fact that this show doesn't look as though it has been rehearsed to death and has room to grow is in its favour.
It's realistically a pay-what-you-want gig as they are both comedians-in-progress and the work reflects that. Both need to up the gag rate and remember that they're meant to entertain other people rather than themselves, but they are absolutely heading in the right direction.
Review date: 14 Aug 2016
Reviewed by: Julia Chamberlain
Reviewed at: Sweet Grassmarket
Recent Reviews
What do you think?