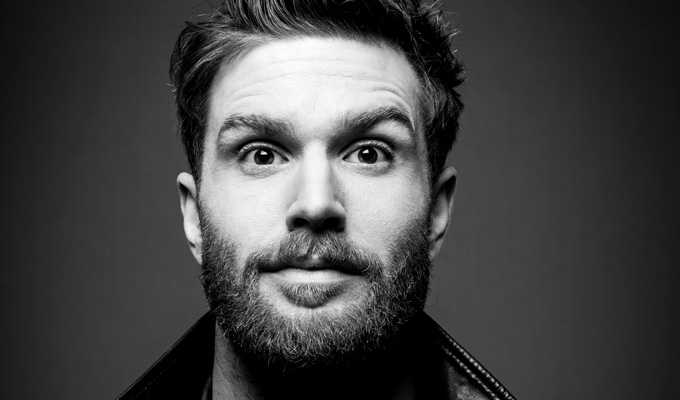 Joel Dommett: Pretending To Smoke With A Breadstick
Joel Dommett is the epitome of the 'hey, guys!', 'right, guys?' comedians, bubbling with excitable bonhomie as he bounces through his observations and stories of wild adventure.
But behind all that blustery banter is a very smartly constructed story, the interesting anecdotes and flippant routines skilfully weaved together to make a show that's more than the sum of its parts.
Dommett has a good story to tell this year, after being catfished by an online 'sextortion' blackmailer who felt a whiff of an easy dollar as the comic's celebrity rose. Plus he was on the rebound after a relationship failed, so easy prey for the flattery of the scam. But to say any more would be a spoiler.
He says his mantra this year is to stick to the truth, a hard restraint for a comedian who loves to exaggerate for the sake of a punchline. The Pretending To Smoke… headline refers to sense of cool he gets when delivering such a payoff, even if it's not real.
So he heckles his own appearance on Russell Howard's Good News with cries of 'lies' just to point out how much of his career is built on untruths – and blasts us with a delightfully over-the-top musical number showing what fun you can have with the childishly stupid with no care for veracity. But no, he insists, this is the year the story is 100 per cent true, even if he might wish another core anecdote, about a dating disaster, wasn't.
Otherwise Dommett juggles seemingly disparate bits of stand-up about Christmas carols or rap singers or the time he appeared on a celebrity edition of The Chase with Sinitta, expressing disproportionately strong opinions on the way. Yet he finds ways to tie these things together.
A few gimmicky but effective bits of stagecraft create an inclusive, loose atmosphere in which his playful energy and can thrive, while he also engineers possibly the finest heckle put-down of the festival.
He could perhaps dial back his volume half a notch, and have the confidence to let some of the architecture of the show speak for itself, without pointing it out. But then it's such a well-constructed hour, you can see why he'd want to brag.
Review date: 13 Aug 2016
Reviewed by: Steve Bennett
Reviewed at: Pleasance Courtyard
Recent Reviews
What do you think?