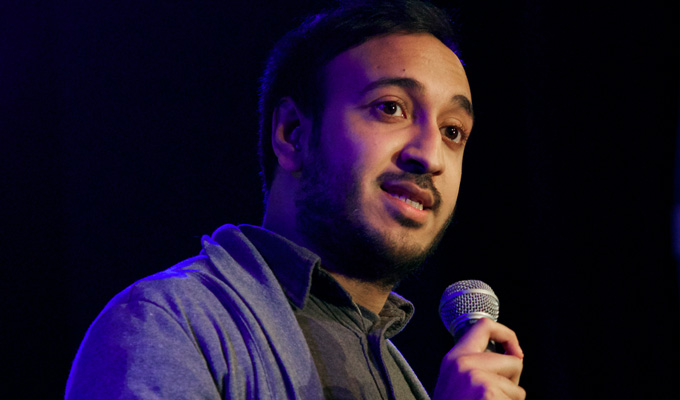 Bilal Zafar: Cakes
Note: This review is from 2016
Baiting online bigots is both an easy sport and an easy topic for comedy, since their hilarious ignorance is usually quick to reveal itself, and few are blessed with the gift of self-awareness.
Tackling the trolls has therefore become a staple of many comedians' repertoires, but in his debut Bilal Zafar has taken it to new lengths, spinning a full hour out of his encounters with the murkier reaches of Twitter.
Sixty minutes is a bit of a stretch, but not too much, as the tale twists and turns, while being ever-so relevant in an post-referendum age of increasing intolerance and decreasing knowledge.
Zafar's greatest weapon against the Islamophobes is silliness.He could never defeat them with facts, and anger is definitely their territory, so best not choose that battleground. But jokes they don't really get, since that involves empathy and ambiguity, both in short supply on the far-right. They prefer a world that's black-and-white. Or preferably just white.
Cakes is his reaction to the Boycott Muslim Businesses campaign, whose aims speak for themselves. Although Zafar's fightback was actually started by his brother, who decided to wind him up by posting on Twitter: 'Boycott @ZafarCakes [his Twitter handle]  – a cake shop in Bristol that refuses to serve non-Muslims'.
It was a deafening dog-whistle to the supporters of the EDL, BNP and others, who could barely conceal their outrage at this blatant discrimination. They threw all manner of insults at him, as the very idea of Islamist patisserie sent them into a blind range. The response, largely, seemed like water of a duck's back to Zafar, whose stage presence suggests a quiet man unruffled by much.
He replied with increasingly outrageous posts, but no alarm bells went off with his adversaries; people who would rather be angry than informed.
The preposterous nature of the fiction peddled by sweet-natured Zafar, mismatched with the explosive fury of his adversaries provide a rich source of laughs, as do their ridiculous beliefs that would crumble with the slightest application of common sense. Chuckles break out at other places, too, as various audience members spot something funny in an icon or a Twitter handle that the comic leaves unmentioned.
There's a slight rule of diminishing returns, but the story has just enough unfolding momentum to vary the premise, while offering a worrying insight into the narrow minds of the bigots. Zafar himself has an engaging dry delivery and a good sense of comic timing - meaning plenty of halal laughs that, unlike his imaginary cakes, non-Muslims will relish too.
Review date: 13 Aug 2016
Reviewed by: Steve Bennett
Reviewed at: Just the Tonic at The Mash House
Recent Reviews
What do you think?