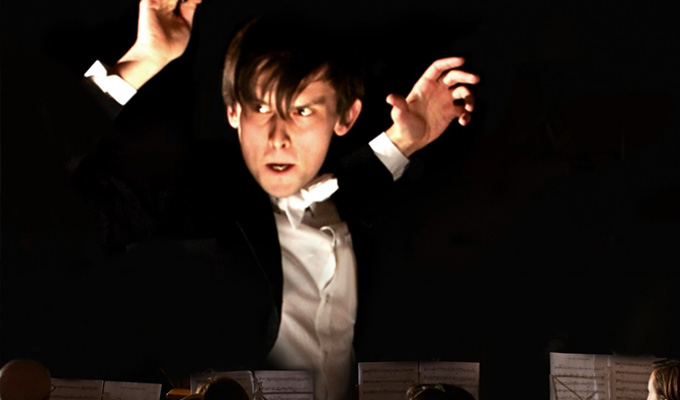 Kieran Hodgson: Maestro
Note: This review is from 2016
Maestro, superficially, charts the efforts to write a symphony that has taken Kieran Hodgson more than half his life.
But whatever the merits of his musical outpourings, this show is no less than a comedy symphony: sophisticated and wide in scope, with its movements, recurring themes, emotional highs and lows and uplifting climax.
Each of Hodgson's movements marks a separate, romantic chapter of his life, beginning from his time as an 11-year-old goody-two-shoes teacher's pet, just happy for someone to call his girlfriend, through naive over-obsession and up to the sophisticated, impetuous Frenchwoman who seduced him with a sexual confidence at odds with Hodgson's English middle-class repression. Opening up to emotion is not natural to him, so that he's done so for this show gives the personal elements a little more meaning.
Hodgson's relationship to music goes hand-in-hand with the ups and downs of his heart. You don't need to know much about classical music to appreciate the story, but he does try to convey his passion for Gustav Mahler, without being too persistent in making the case.
Mahler's 8th, incidentally, is nicknamed the 'Symphony of a Thousand' because of the number of voices needed to realise it; and Hodgson's work isn't much less demanding, with a huge cast characters zipping in and out of the narrative, with even the briefest of cameos given a well-considered personality.
The Austrian composer himself makes several appearances, as a sort of guardian angel, and in various guises from Christoph Waltz to Morrissey because… well why not? Hodgson can do the voices. There is a better reason why he gave one South American pal a Brummie accent – but keeping the stilted English: the fear of being considered racist. Or, more likely, because it's amusingly ridiculous.
Pertinent sketches hang cleanly off the main narrative, from a version of Summer Nights reset to an English canal towpath, to a Classic FM phone-in, offering a choice of the 'smoothest music from some of the world's eight greatest composers'. Any you like as long as it's Rachmaninov, whom Hodgson cannot abide.
Amid the characters, Hodgson shows he can sing, play violin, and, of course, compose. And this is surely the only comedy show on the Fringe to include an example of Arnold Schoenberg's Sprechgesang, a trill way of half-singing, half-speaking a sentence. And that was supposed to be seductive.
But it is not just a showcase of Hodgson's considerable performance talents. This is a show so musical that even the script sings… well, metaphorically, being packed with delicious language and witty turns of offbeat phrase. For just one example, describing the endless possibilities of romantic entanglement by saying: 'Love is an infinite Schengen Zone.'
The show is packed full of gags, though it's unlikely any will make any of the pun-sodden 'joke of the Fringe' lists as they are so rooted in character and situation. In fact the show is packed full stop, covering a lot of ground in narrative and comedy, without feeling particularly rushed.
A maestro Mr Hodgson most certainly is.
Review date: 12 Aug 2016
Reviewed by: Steve Bennett
Reviewed at: PBH's Free Fringe @ Voodoo Rooms
Recent Reviews
What do you think?