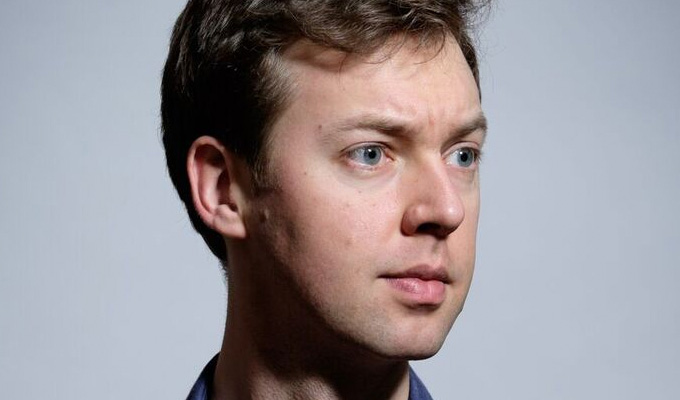 Andrew Hunter Murray: Round One
If you know Andrew Hunter Murray as one of the QI researchers from the highly edutaining No Such Thing As A Fish podcast, it won't come as a huge surprise that his solo Edinburgh debut is based around a pub quiz.
Don't worry, though, no knowledge is needed, it's just the background to his first character, an obsessive quizmaster called Tony Rebozo, whose life hasn't quite worked out like he hoped, but knows that even amid tumult, the quiz must go on.
He cheerily introduces the teams, and as the evening of trivia goes on, we meet a representative of each, plus a couple of surprises, in a showcase of Murray's character comedy credentials.
First is Arturo Flame, teacher of the local samba classes, a disappointingly thin characterisation of a passionate Brazilian. But he loosens up the audience by getting them dancing in their seats. And thankfully there is a lot better, and more distinctive characters, to come.
That starts with Elwood Winkforth, an estate agent, which in less creative hands could have been a simple money-grubbing slimeball; but Murray has made him milder in manner and nervously addressing a group of dissatisfied tenants about an infestation. It could be seen as a nicely underplayed satire on meaningless corporate apologists, or simply as a bit of offbeat silliness – either way, he's a delight.
Next it's time for a women's book night
When Murray again gets the character right.
A real artsy type who speaks only in rhyme
And fosters a spirit of fun pantomime
As she fixes the crowd with a suspicious look
In trying to unmask who skipped on the book.
It's another smart twist on a stock personality
Who breaks the fourth wall and its usual formality
And dealt with some punters who seemed off their face
With a dollop of wit and patient good grace.
This character, in her way, is quietly audacious
From a comic who's also in Austentatious.

Sorry.
Rebozo returns between sketches, giving glimpses of back story as well as an ongoing storyline of whether his quizzing is getting in the way of his relationship with the fearsome Angie. But before the denouement, he brings an inanimate figure to life, bemoaning his lot with a distant sing-song voice that drove home the absurdity and eccentricity, creating an off-kilter atmosphere in a way that seemed reminiscent of some of Simon Munnery's odder alter-egos.
It cements the idea that Round One assured debut, showing that character work is another string to the bow of this comedy polymath.
Review date: 11 Aug 2016
Reviewed by: Steve Bennett
Reviewed at: Pleasance Courtyard
Recent Reviews
What do you think?