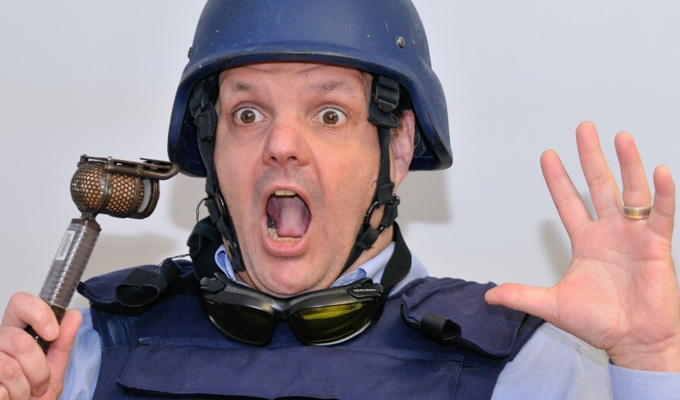 Extreme Broadcasting
Note: This review is from 2016
War stories from a civilian broadcast engineer sent to the front line promise a lot of the inky-black gallows humour of the military.
But unfortunately David Ramsey is a civilian when it comes to comedy, too, more familiar with the theatre of operations than the theatre of, well, theatre. It means his show about his operations with the British Forces Broadcasting Services in Iraq and Afghanistan often feels too careful and corporate to really dish the dirt.
Sponsored by his former employer, Extreme Broadcasting starts with what's pretty much a mission statement about how the organisation 'has been 'proudly providing broadcast services to the British military for more than 70 years'. In this preamble you'll learn how his job was to ensure 'global coverage and infrastructure support' – complete with a diagram of the signal footprints of the four geostationary satellites that deliver the service. Chapters of his show are illustrated with testimonials from top brass explaining how vital the radio and TV broadcasts are to forces' morale. Every shred of this could be lost as it contains nothing entertaining.
He hasn't lost the military love of MLAs – multi-letter abbreviations – and will drop in technical terms like EOD, DFAG and PHF without explanation. There are a couple of sections that offer a humorous look at this obsession for acronyms both real and fictional (ODTF meaning operation doomed to failure, for example) but he's in no way immune.
Beyond the technical, there are a few wry stories: the unlikely ID he used to get on to a forward base, an ironic claim of the broadcaster's role in the fall of Basra, or the rather laissez-faire attitude to an unexploded rocket in the canteen.
The challenge of building radio stations in the desert and sometimes under fire are, of course, interesting. But often times he can't translate in-jokes among colleagues to a general audience who wouldn't know an audio server from a… well, anything.
You can't escape the feeling the armed forces personnel or the journalists, with whom he affects a bitter rivalry, might have better stories than the time they ordered a spare part for a server and Dell offered to send out a technician. Ramsay tells us of an engineer stranded without a lift back from some remote base where he installed some kit, but can't find the funny in it. Where there are jokes, they are easy and well-flagged, the sort of banter or puns it's all-too easy to think of.
Ramsey's been on a hostile environment course, so he should be prepared for the flak of an Edinburgh run. But he has a long way to go to elevate this from a chummy chat to colleagues to a fully-fledged comic talk he might be able to hawk around the after-dinner circuit. Maybe a director is what's needed.
Review date: 8 Aug 2016
Reviewed by: Steve Bennett
Reviewed at: Spotlites
Recent Reviews
What do you think?