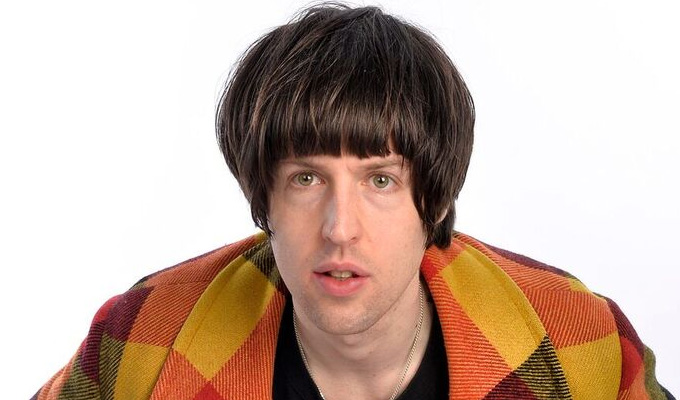 Tom Ward: Sex, Snails and Cassette Tapes
Note: This review is from 2016
A couple of years back Tom Ward made the upper echelons of almost every new act competition going – but he was always a finalist, never a winner. Now his first solo show cements the notion that there's something interesting about his peculiar suburban whimsy, even if it hasn't yet solidified into stand-out work.
With hair like a Lego Richard III and a voice a bit like David Bowie's – both of which are his own observations – he immediately cuts a different figure. The title, Sex, Snails And Cassette Tapes, underscores his quirky, indie credentials and he stumbles into a low-key start as he can't bring himself to fade out the New Order walk-on music, typical of the hour's chilled atmosphere.
Downplayed idiosyncrasies are his stock in trade. How many other comedians ask questions such as: 'Make some noise if you've been let down by some Tupperware!' That's part of a string of observations about lower-middle-class life, from the stigma of unbranded trainers to the peculiarities of his God-fearing mother Rachel, whom he affectionately impersonates, with the aid of amusingly large round-rimmed glasses.
This is not a heavily themed show, though there is some talk about masculinity; about how he wishes he had it in him to be like those heroic shopkeepers who see off would-be raiders rather than a fey, arty type. Some of this is reminiscent of a greatly slowed-down Russell Kane after the ProPlus has worn off, someone whose idea of being a man is at odds with his more conservative background.
This is wrapped into a story from his teenage years about being taken to Soho's G.A.Y. nightclub by a middle-aged man, which he was rather too naive to see as being in any way inappropriate. And that, in itself, feeds into other strands about relationships and music, from the motivational power of an 1980s floor-filler, to a great Jools Holland impersonation and a fantastically silly approximation to Cher's 1998 software-enhanced pop-dance classic, Believe. Ward does have a talent for impressions, particularly of household appliances.
Yet for all his distinctiveness and relaxed audience interactions, little here really sticks. There are too few hearty laughs to fill the 45-or-so minutes, though plenty of warm smiles, nor are you quite fully transported into his modestly curious world. It's a show that's 'nice', which is not the faint praise a much-tipped newbie would be seeking.
Review date: 7 Aug 2016
Reviewed by: Steve Bennett
Reviewed at: Pleasance Courtyard
Recent Reviews
What do you think?