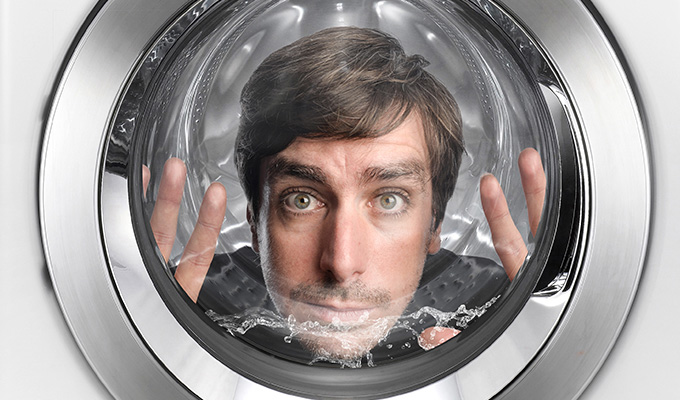 Darren Walsh: S'Pun
Note: This review is from 2016
Darren Walsh is so compelled to crack puns that you'd think it was an illness. Even he did, googling to find out that there is a real condition, called Foerster's Syndrome.
He doesn't have it, but is mind is clearly hardwired for puns. Give him any topic and he'll invent or remember a gag on it; a party trick he shows off a few times here even if, ironically, it doesn't actually make him popular at parties. He admits as much in a rare moment of truth amid all the linguistic re-engineering.
S'pun is simply a relentless 45 minutes of wordplay. And even at such a short running time it runs the risk of feeling monotonous, hence all the bells and whistles of props, jingles, songs, Photoshoppery and animations he uses to tszuj up the puns, including a Wheel Of Fortune occasionally spun (now do you get the title?) to get us between gags. Anything to add some texture to the onslaught of often cheesy wordplay.
Walsh acknowledges the groan factor with his daffy performance, cheerily overselling the punchlines in a similar way to pun god Tim Vine, a comparison Walsh is probably never going to be able to shake. The jokes are rarely amazing, but you admire the effort he's gone to in both performance, craft and presentation, preparing all those silly slides.
He even forces words into double meanings they don't have. Speaking of a girl who wouldn't date him because it looked like he was going bald, he says simply: 'Hair loss'. But it's hammered into the shape of 'her loss'. He won't be retaining his Dave's Joke Of The Fringe title with that – though he's plenty more literal ones likely to get him on the list.
There is always a risk you can see some punchlines coming. Not that they're unoriginal (the 'careless Wispa' one excluded), but any pun is a puzzle and sometimes the audience can solve them too quickly. There can't have been a soul in the house who would be surprised with what he produced after saying: 'to succeed in Edinburgh you have to be able to draw a crowd…'
Funnily enough, it's not so much the puns as the completely random non-sequiturs that work the best, not least as a break from the laboured wordplay. Sure, let's have the Fraggle Rock theme in a South African accent. It doesn't make any sense – does any of this? – but it's funny for the sheer bizarreness of doing it at all. Interludes like this keep the audience on their toes. They might not ALL be puns, and even when they are, you can't quite be sure which form they'll take thanks to all the computer jiggery-pokery.
But however you dress it up, you know what you're going to get with a show devoted to puns, and Walsh delivers exactly that.
Review date: 7 Aug 2016
Reviewed by: Steve Bennett
Reviewed at: Pleasance Courtyard
Recent Reviews
What do you think?