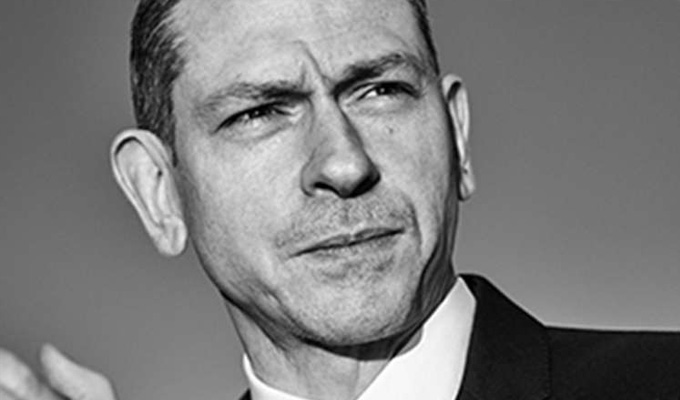 David Mills: Shame!
Note: This review is from 2016
If ever a chat show host asks David Mills the stock question: 'What was it like working with Meryl Streep and Hugh Grant?' he's got a very detailed answer.
For this year the elegant, waspish American has made his movie debut, playing a gay best friend character in Florence Foster Jenkins. And he's got a long and involved yarn out of what he always knew would be a learning experience.
Mills has a skill for making a lot out of a little, which is both criticism and praise rolled into one. His storytelling talents are impeccable, stringing along tales from the shoot, which he chops between a parallel story about an exclusive party for the scions of the great and the good. The two strands have little in common in attitude, theme or even veracity – his story is that he blagged his way into the bash by pretending to be the unlikely son of a 90s pop star – yet somehow he makes it work.
There's a similar disconnect in another routine about how he got into the gay lifestyle for its sordid rock-and-roll depravity – but now reluctantly finds himself in the domesticated reality of a long-term relationship. Yet with his dapper suit, impeccable manners and occasional habit of addressing the audience with a mildly condescending '…my dears' as if he'd fallen though a wormhole from the Algonquin Round Table, you would not put him down as the grubby, slumming-it type. Any perversions would surely be concealed by a veneer of respectability.
His anecdotes and his attitude make Mills a charming character to spend time with; though you suspect he'd bitch about you the moment you'd left the room.
it takes a while for him to hit his stride, though some of his preamble is underpowered; jokes about the Islamic State threat or hijabs are some of the less assured in intent. He's certainly better when he's focussing on 'me, me, me', his default setting. He's naturally disdainful of everyone, even including his four-year-old godson Milo. His description of trying to teach him the basics of non-binary sexuality through a Barbie doll is a delightful one-sided conversation that offers a very 21st Century update on Bob Newhart.
You can see what Florence Foster Jenkins director Stephen Frears saw in him; this shows great acting chops – as does his priceless reaction at seeing himself on the big screen, which he deftly re-enacts in silence; his expressive facial expressions saying it all.
Elsewhere, there's another virtuoso performance of a more verbal kind in an stylish set piece about his personal moral code towards the f-word, the c-word and the rest of the alphabet. It doesn't fit into a wider narrative, but it's good enough that it doesn't have to.
This segment aside, a David Mills monologue is generally less about the gags than it is about the journey. It might sometimes slip into being a triumph of style over substance – but, my, what style he has.
Review date: 5 Aug 2016
Reviewed by: Steve Bennett
Reviewed at: Underbelly George Square
Recent Reviews
What do you think?