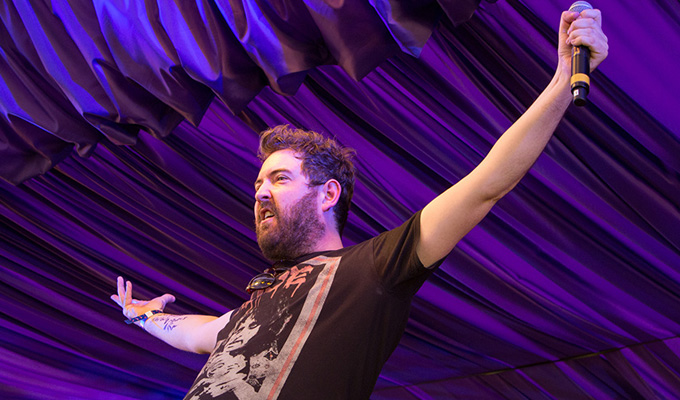 Nick Helm at Latitude
Nick Helm insists he came to Latitude's comedy arena with a plan. 'It's written on my hand and everything,' he insisted plaintively as the wheels wobbled of the gig, and not for the first time. But he was not to stick to his intentions, as his anger and self-loathing, as so often, got the better of him again.
Instead he waded into the audience, berating them for their reactions. Even in the crowd you have to walk on eggshells in a Helm gig, lest you anger the beast. Not replying to a simple question such as 'Who here has a phone?' will trigger his rage. Or sometimes knowing the answer will, such as being able to name the lead singer of The Seahorses. And how dare you clap when you're not supposed to.
You will never know ferocity like his furious reactions. 'You all get emails from Neflix' becomes a sentence blasted out with such vigour, venom and passion you might even think it important.
'It's bullying,' Helm admits. But of course it's our fault as an audience for allowing it. And like all bullying, it comes from the insecurities of the bully – but rarely are they writ so large as with Helm. Often they are trivial; sometimes he's got a point: how dare Robbie Williams call his next album Heavy Entertainment, the same as Helm's BBC Three show, like it never existed.
With such psychopathic tendencies, it's little wonder that his set has a stop-start momentum; flourishes of exciting wrath tempered by quieter moments when you wonder what he's up to. He literally starts and stops the gig, too, after 20 decided to return to the stage and press 'restart' – although the enthusiasm to introduce himself was elusive. 
Five minutes later and he does another reset, though it's not long before a minor interruption into his 'opening' volley of puns again causes any plans to be abandoned again and he finds himself leading the most bizarre call and response with the crowd. 'I say "Cillit"; you say "Bang". Cillt!'
He's got so far from the track marked 'material' that it's difficult to get back, and his constant c-bombs start to lose their impact from overuse. 
However, he perseveres and forces us through to anecdotes about drunk online shopping, having his phone stolen and the police interview that ensued. That the investigating officer didn't recognise Helm – clearly not a fan of Uncle – adding insult to injury.
But no one who saw him in full unsettled mode, as in this afternoon's performance, can never forget him, for better or worse. There might be funnier, slicker, more consistent comedians at Latitude, but few so memorable.
Review date: 18 Jul 2016
Reviewed by: Steve Bennett
Reviewed at: Latitude
Recent Reviews
What do you think?