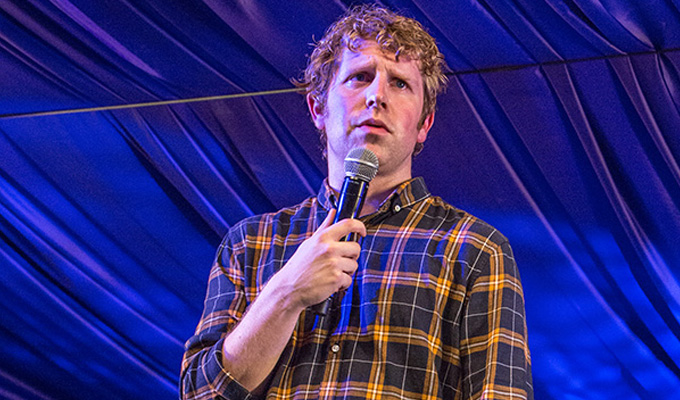 Josh Widdicombe at Latitude 2016
It's testament to the success of The Last Leg that Josh Widdicombe finds himself, to his obvious delight and slight surprise, taking Saturday's comedy headliner slot at Latitude.
He's got here by performing very well on live telly and panel shows while his stand-up – a bit of swearing aside – is designed for all, with every starting point an almost everyday item. No punter gets left behind at a Josh Widdicombe gig.
He acknowledges the fact his material can obsess on the trivial and that in today's feverish and divisive political climate concedes: 'I'm fully aware I ought to address big issues' – which prefaces a bit about Pret A Manger yoghurts.
Widdicombe has only one setting: shrill incredulity. The exasperation works well in short bursts  when he's just one component of a TV show, but over the best part of an hour, when it's just his voice, the tone becomes samey. 'That is not acceptable,' he rules emphatically; or 'This is unbelievable!' About almost everything. It's 'what's the deal with that?' comedy on steroids.
A favourite trick is to ask a question, rhetorical or otherwise, then react in shocked incomprehension. The genuine punchline  'I'm swimming, not dredging for mackerel!' is typical. Again a funny technique used sparingly, but a bit repetitive here. 
Some of the routines are forced. What is the flight map on planes for? he asks, for example, not so much echoing a latent thought we've all had in the back of our minds, but instead being purposefully dumb to try to highlight an absurdity… though in some routines you would have to suspend quite a lot of logic to be on the same wavelength as him.
Naturally enough, the material works best when it's a genuine frustration exaggerated, rather than a phoney outrage trumped up for comic effect. There's a lovely gag about bullet points that will resonate with everyone who's ever used a word processor; or how foolish you feel when you try contactless payment at a show which doesn't accept it. Experiences that leave him looking stupid and powerless always hit home.
The audience always enjoy his exasperation, and there's a charm to his naive outrage at the unimportant. And even from contrived premises, punchlines can surprise with their invention and imagery.
But for a premier-league headliner, the material's more hit and miss than you might hope for; with a little too much treading water between those gems. 
Review date: 18 Jul 2016
Reviewed by: Steve Bennett
Reviewed at: Latitude
Recent Reviews
What do you think?