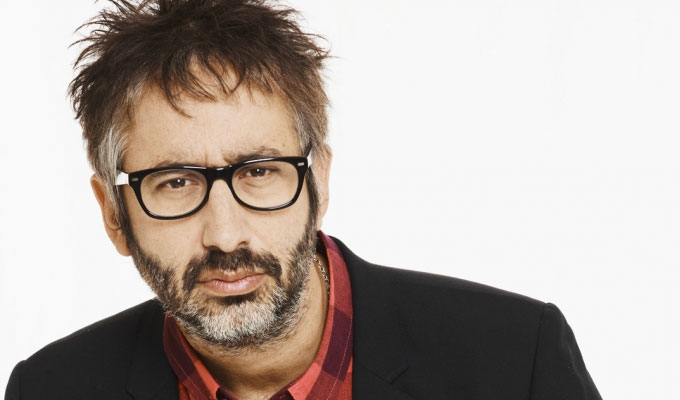 David Baddiel: My Family Not The Sitcom
Note: This review is from 2016
In recent years there has been such a spate of male comedians evoking their dead parents to add some pathos in the last act of their solo shows, that it's even a cliche to point it out.
But it feels like David Baddiel does something different with My Family: Not The Sitcom. For while he loads it with serious issues, the tone is almost universally joyful.
The defining experiences are his mother's death, and his father being diagnosed with an aggressive form Alzheimer's. And you can throw in the Holocaust, mourning and his dead mother's clitoris on to the heap of subjects you're not supposed to joke about.
In fact, the question of taste is the angle into the show. Like many comics, Baddiel, a prolific tweeter, has found himself at the centre of many a storm of social media outrage, thanks to the offence of those whose anger, he concludes, amplifies their sense of self. Of course, a careless or lazy joke can cause genuine hut, but you couldn't accuse Baddiel of that; for this show – 'a twisted love letter' to his parents – is judiciously crafted. And his defence is that because these stories are real – he claims to be a dangerously compulsive truth-teller – they have a clear context.
The first half, primarily about his mother, challenges that old posthumous platitude: 'She was a wonderful woman'. 'If that's all you can think to say, then you never knew them at all,' he opines. Certainly Sarah Baddiel defies expectations. While there were elements of the stereotypical Jewish mother to her, she was so much more besides. The most notable being that she had a long-running, and pretty blatant, affair with a man also called David, which leads to one hilarious mix-up. Baddiel has spoken in the past of her odd obsession with golfing memorabilia, particularly as she never enjoyed the sport. Well, her amour is the key to that, as that was his obsession too. 
Nor was Sarah beyond putting herself in the limelight, as some footage of her acting as the 'secretary' on Baddiel and Skinner Unplanned shows. Her son's theory is that the affair gave her life an illicit glamour that spiced up her suburban comfort.
Baddiel's father, Colin, seems to have been oblivious to all this, despite being far from the archetypal cuckold. He was compos mentis then, but after the comic learned that the symptoms of his Pick's disease dementia include vulgar language, inappropriate behaviour and tactlessness, his son just shrugs 'Sorry, does he have a disease, or have you just met him?'
Anecdotes of both parents' misbehaviour come easily, while several traits identified earlier in the show come to rewarding fruition in jokes and stories later, adding a feeling of depth. The simple but elegant stage design, comprising various heavy-framed family portraits surrounding the central PowerPoint screen, further points to something a more substantial than a superficial stand-up show.
And, of course, any knee-jerk reaction that disease and death are not a subject for comedy evaporate under the heat of sincerity. The only question might be how appropriate it is to plunder the privacy of his parents for a show – but it is done with clear affection. And since Mum bizarrely copied in her children on the occasional flirtatious email to her lover, the assumption is she would have loved the attention. Certainly Baddiel's brother Ivor, in the first-night audience, gives his approval  – though he, too, is a comedy writer, so likely to have a similarly aligned moral compass.
My Family: Not The Sitcom is, Baddiel says, the funeral speech for his mother that the Jewish faith doesn't entertain. And it also applies to his father, alive in body but departed in mind. 
It is, certainly, a far more nuanced character study than most eulogies. And although Baddiel highlights his parent's flaws and eccentricities, he loves them more for it – for those are how we remember loved ones. Baddiel's certainly got more outrageous stories to recall than most, and tells them in warmly witty style. I wish this show long life.
Review date: 23 Jun 2016
Reviewed by: Steve Bennett
Reviewed at: Menier Chocolate Factory
Recent Reviews
What do you think?