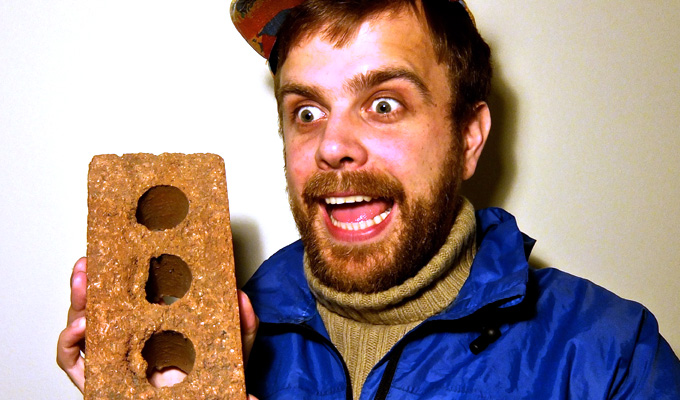 Brickhead: Yeah Yeah Yeah?
Note: This review is from 2016
As Gaulier-inspired clowns become increasingly common on the fringe comedy circuit, the techniques instilled at the Parisian ecole are in danger of becoming as cliched as any tired stand-up trope.
The eyes silently imploring audience members to join in, the quizzical glances when they don't get what's wordlessly asked of them, and the elevation of mundane actions into cheer-worthy achievements are all present and correct in Brickhead's performance.
Add a touch of Spencer Jones's sublime Herbert alter-ego in the half-muttered sentences questioning just what manner of nonsense this all is, and there's a sense we've seen a lot of this before.
Yeah Yeah Yeah? – performed as part of the London Clown Festival in a delightfully makeshift, hard-to-find venue that looks like some crime-solving kids made a den in a junkyard – is a fragmented show.  Brickhead (Dan Onslow to his mother) presents a series of discrete sketches in several guises, realised with a sizeable collections of hats, rather than the exploits of a single alter ego.
Thus we get no real sense of who Brickhead is (his clown name has no resonance to the show either, in case you were wondering), with the absurd set pieces taking place in isolation, changing his persona each time.
Some of these scenes seem like perfunctory modern-day clowning, but there are moments of more original delight  among them.
Clutching both a balloon and a pin, he becomes a  maniacal villain, excited by the prospect of his destructive power, in one of the best scenes. And saying goodbye on the phone is an engaging slice of heightened absurdity. His dyed-in-the-wool Daily Telegraph reader, spluttering at the state of the world, is nicely realised, even if a old archetype, contrasting with the brash-but-dim Mr New Money.
But when he's dragging some poor sap on stage to look a bit awkward before being turned in to a hero for achieving something simple, we're on familiar territory – and they are plenty more compelling proponents of this sort of comedy around.
Brickhead has the requisite playfulness and pseudo-vulnerability, which makes him easily likeable, even if the show is in search of purpose. His assertion that all outside is scary and miserable – 'boo!' – and all inside is joy – 'hooray!' – is trite; as is his finale when he gets us to make waves in what seems like a primary school exercise, but with only a fraction of the carefree glee he'd be pitching for.
Review date: 19 Jun 2016
Reviewed by: Steve Bennett
Recent Reviews
What do you think?