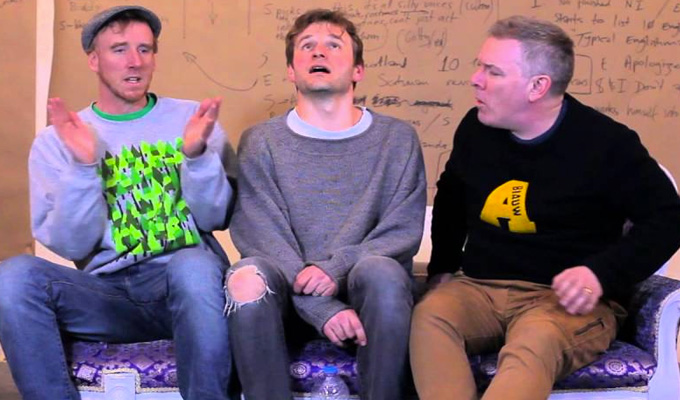 The Joke
An Englishman, a Scotsman and and Irishman walk into a room. What is this, some kind of joke?
Well, there's certainly something funny going on as these three characters find themselves trapped on stage together, initially unsure what's going on. Eventually they realise they are perpetually Doomed to play out their stereotypes in the quest for the perfect punchline.
The archetypal national identities are what underpins this 80-minute, one act play, as they've previously underpinned so much banter in the workplace – or the comedy club. Never mind that these personalities don't entirely match up to what's expected: the Irishman, played by Lloyd Hutchinson, is from the North, so needs to tiddly-aye it up for the gag. And the Scot – Guardian comedy critic Brian Logan in his other job as actor – is urged to play it more Glaswegian, more drunk, more Rab C Nesbitt.
Former Perrier winner Will Adamsdale is the Englishman, taking control. But his fabled reserve shatters when he's the butt of one too many a joke about how everything's his fault, the old colonial master. When provoked, the stiff upper lip not just quivers but rages. Offstage, of course, not in front of the staff.
National rivalries are used as both social lubricant and survival techniques (the fleeting joke about the Welsh being that they're considered too inconsequential to have a character in this). We are in Samuel Beckett/Tom Stoppard territory as the trio are put through the existential wringer, initially aware that they are trapped in a bizarre construct, then increasingly beholden to it, Doomed to repeat the same joke again and again, losing all sense of why.
The actors make the extreme, surreal situation credible – and the staging is effective, right from the way the action starts so subtly in the audience. The trio construct an effective makeship ship out of stage debris for their gags's setting, while clownish national dances, neatly choreographed, and bursts of national song show the passing of time. The Proclaimers will always win over the disgruntled Scotsman.
There's an aggression in so many words around humour. 'Is this some kind of bloody joke?', 'Are you having a laugh, pal?' and there's some feel of that tension in the increasing despair of a futile gag.
Yet although there's great fun in the way it all unfolds, the play, ultimately isn't perhaps as profound as it would hope. Well, it's only a bleedin joke, innit?
• The Joke is at the Camden People's Theatre until June 4.
Review date: 21 May 2016
Reviewed by: Steve Bennett
Recent Reviews
What do you think?