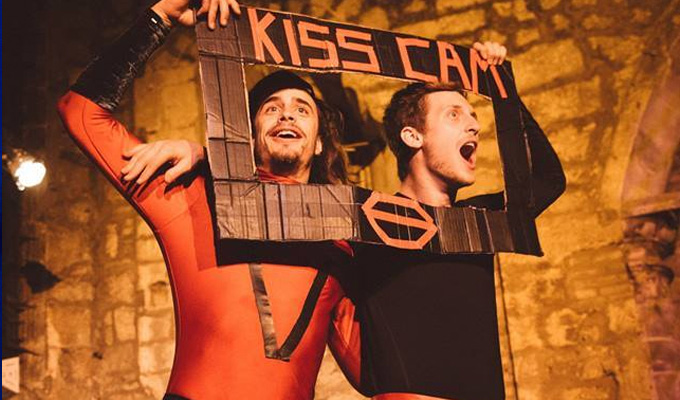 Zach & Viggo: Thunderflop
With their inspired stupidity and anarchic energy, Zach & Viggo could just be your new favourite double act. Throwing themselves so heartily into their ridiculous sketches, they generate an overwhelming spirit of exuberant fun that sweeps up all before them.
This late-ish crowd is boisterous, but the comedians even more so, feeding off the unpredictability to sharpen the chaotic edge of their already knockabout performance.
Zach Zucker and Viggo Venn, perhaps the world's only Norwegian-American comedy partnership, trained at Gaulier, the Paris clown school that's brought out the inner idiot of everyone from Sacha Baron Cohen to Edinburgh Comedy Award winner Dr Brown. Their audience games have the playful hallmarks shared by so many fellow graduates – primarily hoping participants will pick up on cues to engage with the show - but the verve with which the pair get carried away with the sport of it all sets them a league apart.
Such interactions are an essential part of the show, but not everything, with a pacey cavalcade of lively, distinctive – and dare I say zany? - sketches and characters adding to the vibrancy of the hour.
They have the invention to match the execution. An unforgettably pretentious Hollywood thespian mangling his vowels as he delivers an 'arcting' masterclass is typical of the brilliant silliness, delivered with unfailing conviction. The preposterous sight of a security officer being a very literal long arm of the law is an hilarious treat… you won't believe how funny a pair of spectacles can be.
Every scene has clearly been engineered to cram laughs in, with running throwaway jokes, such as Viggo being convinced a glass of cold water is in fact scalding hot, ramping up the rate even further. But they also have an irresistible looseness, and a willingness to give jokes space when needed: A patient skit based on the saxophone solo on Baker Street takes the idea of Andy Kaufman's classic Mighty Mouse routine and cranks it up several notches. So, yes, they are a duo who make even the super-intense Kaufman look like he didn't go far enough.
Unpredictable, ridiculous and joyous, Zach & Viggo are simply so much fun.
Review date: 9 May 2016
Reviewed by: Steve Bennett
Recent Reviews
What do you think?