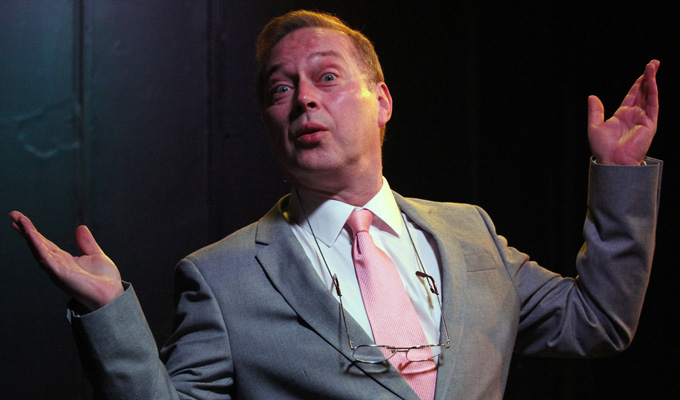 Three Days And Three Minutes With Larry
There can't be many famous dead comedians whose lives haven't been put into a stage play, and now Nuneaton's finest, Larry Grayson, joins the fray.
Three Days And Three Minutes With Larry is set in 1994, more than a decade into his public retirement, after he quit as host of The Generation Game. But here he is preparing for a brief comeback, a short routine on the Royal Variety Performance to remind people that he's still alive. And helping him to prepare in the three days before his appearance, is his spiritualist friend Mark.
Grayson was apparently a believer, with playwright Chris Mellor saying: 'I met a spiritual friend of Larry's, who told me about the way Larry made his big life decisions like giving up the Generation Game after consulting a medium. After researching his archive, I soon found that Larry's creative work was heavily influenced by those psychics who enjoyed his company.'
However, this two-hander doesn't quite get to grips with exploring this belief, more concerned with the main dramatic thrust of a performer wondering if his time has been, and the more straightforward aim of reviving Grayson's comic spirit (with no mediums required).
In this matter, Ian Parkin of one-time Jonathan Ross backing band Four Poofs And A Piano does a respectable job, certainly with the mannerisms that defined Grayson on the stage – that pursed-lips delivery and effete preening. In appearance, Parkin could get a job as Michael Gove, but makes you think he could be Grayson.
Manchester-based comedian Lee Peart plays Mark, making a decent fist of a role that pretty much only exists for Grayson to bounce off. Sometimes Mark is a superfan, knowing all the words of a vintage sketch, sometimes he's less knowing, asking what characters the comedian has, allowing him to introduce the likes of Slack-Alice, Pop-It-In Pete and Everard, his imaginary friends in his camply heightened version of British suburbia, shared in gossipy confidence with his audience.
Biographical details are dripped in along the way, such as the fact that earlier in his career, Grayson sometimes hosted Danny La Rue's super-fashionable nightclub shows – in the first half as a woman, in the second as a man, so he could claim double the fee.
Back in the Nineties world of this play, preparations for the big show are interrupted by frequent unheard phone calls from Grayson's agent, urging him not to do the show. The interventions variously fire his insecurities, requiring an ego massage from his companion, or prod a stubbornly defiant streak. But neither are extremes; in real life, Grayson seems to have been neither a tortured genius nor an insufferable bastard, just the same warm-hearted person that came through in his stand-up. Dramatically, that's something an obstacle in the scenes when Grayson isn't 'on', but Parkin captures his charm.
In the end, Grayson did the Royal Variety Performance. And just over a month later he was dead at the age of 71. But as this play proves, his legacy lives on, with the recreation of that final appearance still getting the laughs 20 years after he shut that door for the last time.
• Three Days And Three Minutes With Larry is at the Lowther Pavilion, Lytham, on Wednesday and the Festival Theatre, Malvern, on Friday and Saturday.
Review date: 25 Apr 2016
Reviewed by: Steve Bennett
Recent Reviews
What do you think?