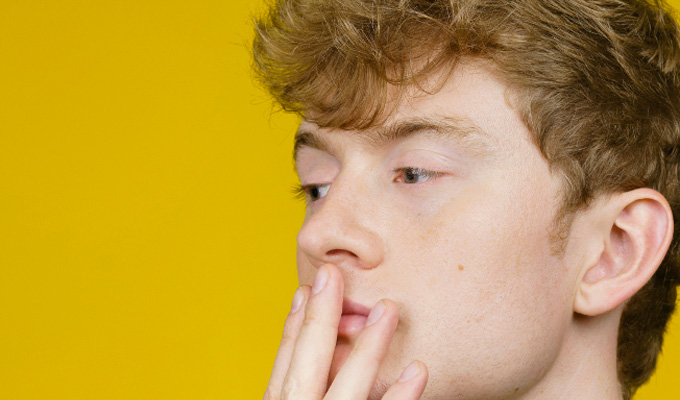 James Acaster: Reset
Note: This review is from 2016
James Acaster has been nominated for more Edinburgh Comedy Awards than anybody else – and as he unveils his new offering in Melbourne, a good three months ahead of this year's Fringe, he already looks like the man to beat.
Reset is a virtuoso display of comic invention: pedantic, observational, whimsical and opinionated all rolled into one tricksy package, so elegantly and intricately constructed yet wearing its idiosyncratic genius lightly.
The idea so eloquently explored is of having your time again, to be able to go back and wipe the slate clean on a day, a decision, a lifetime. A control-Z on existence. 
It's an idea that could go many ways, and Kettering's finest explores a lot of them, none quite as you'd expect. Starting a new life under a witness protection programme, or as an aid worker in the Third World – or just giving up when minor irritations get you down. Those who 'wouldn't change a thing' about their lives arouse the suspicion of a comedian who confesses to being sulky when things don't go his way.
Against this backdrop, everyday observations are considered from entirely new angles. His unconventional takes on long weekends, or British colonial guilt that means every true Englishman should truly despise him – or her – self, shine with originality, even if he starts in the familiar.
Everything pertains to the broader ideas, somehow or other. The phrase 'callback', often used to describe a simple reiteration of a key phrase, doesn't do justice this serpentine, interconnected narrative, or the way jokes that seem wrung dry resurface for another angle.
One he's established, and reinforced, the fact that he's funny, he can take the audience anywhere, and the odd longer routines lead through tunnels of thought until emerging into the bright sunlight of a punchline. Or sometimes an extended fantasy, such as his time working for a honey supplier, takes on its own logic, twisting and turning into fresh absurdities.
His writing deploys a unique, subtly off-key language while picking apart some of the phrases we're all guilty of unthinkingly using. And with no performance fireworks – save an unexpected yet typically quirky musical interlude to underpin the idea of fresh starts – he gels his audience into one; perfect for reprimanding the borderline unruly among us, kindly but firmly.
Given the concepts he's talking about, he naturally mulls over his own life choices, though whatever existential crises he may consider, no one else can be any doubt he's chosen the right path, with yet another top-class hour proving him to be one of the most consistently brilliant and distinctive comedians of his generation. 
One good thing about having your life over again is that you could get to see this twice.
Review date: 15 Apr 2016
Reviewed by: Steve Bennett
Reviewed at: Melbourne International Comedy Festival
Recent Reviews
What do you think?