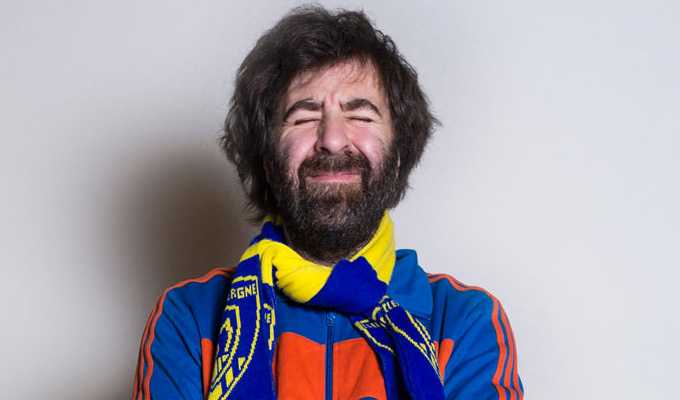 David O'Doherty: We Are All in the Gutter, But Some of Us Are Looking at David O'Doherty
Note: This review is from 2016
He always used to bill himself as 'very low-energy musical whimsy', but David O'Doherty's latest show is pretty energetic, only very sparingly deploys the 1986 Casio keyboard that's become his trademark, and contains more bite than you'd expect.
So while the genial Irishman might have become part of the festival furniture, take him for granted at your peril, as he's ever-evolving as a comedian… even if the mega-stadium gigs he ironically longs for remain out of his reach.
How energetic can it be? Well, he comes a cropper not once but twice during this performance as he zips around the stage, sometimes even lying on it for extra effect. Untethering himself from the cheap plastic chair from which he plays his cheap plastic keyboard has given him a new-found freedom.
The origin story of his instrument is one of the nostalgia-soaked tales from childhood he recalls here, but it's brought into service only a couple of times, among them providing a bed for a collection of quirky one-liners early on and a cracking musical punchline to the entire hour.
Whimsy is the more persistent of the trifecta, but he need be in no rush to ditch that, not when he can produce such delightful ideas as his mobile phone apps, his observations on twee photographs of our lives or his delightfully quirky turns of phrase.
But he can write proper jokes too  – his Steve Jobs line is one of the Best Of The Fest – while his social edge has never been more prominent, as he turns 40. He talks of falling prey to the classic consumerism folly that new things will make his life better, discusses Ireland's unhealthy mono-culture, and even at one point emits a semi-exasperated:  'What the fuck are we doing as a species?'
But the political agenda is underplayed. Even a story about the marriage equality referendum in Ireland – a hot topic her as it's an issue yet to be resolved – might start as a celebration of how far down the progressive highway his conservative homeland has come in a generation. But it ends up with his hilarious humiliation.
And everything is wrapped in O'Doherty's relatively carefree charm, optimistic despite it all. He joshes with the audience over Australian peculiarities, and he even gets applause for a twirl of the mic, typical of the playful relationship between comedian and audience. Well, if we ARE all in the gutter, we might as well enjoy it.
Review date: 15 Apr 2016
Reviewed by: Steve Bennett
Reviewed at: Melbourne International Comedy Festival
Recent Reviews
What do you think?