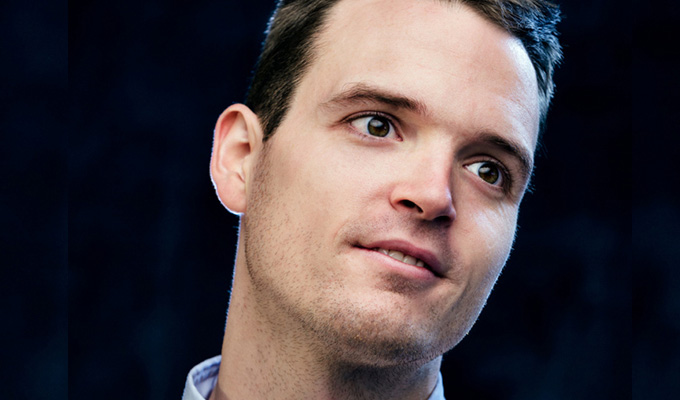 Tom Walker: Beep Boop
Note: This review is from 2016
Very much in the mould of Dr Brown at his most playful, best newcomer nominee Tom Walker brings an inventive edge to his often wordless clowning.
His physical skills are excellent, his increasingly red-faced recreation of a kettle on the boil typical of the way he's delightfully silly while technically on-point.
Yes, there needs to be a warning for the partici-phobic that Walker recruits audience members from the front rows, sometimes requiring quite a lot of them, but it's all in the spirit of play, with no one ever humiliated. On the contrary, if you please him, you'll be anointed 'favourite' – and it feels like a genuine honour.
This tone is set with a game in which he becomes what may be the world's first user-operated comedian – press his hand and get a response, as he, the aloof 'king' of the room, rewards interaction. It's a creative premise from which he ekes many variants of a similar punchline, but always unexpected, while establishing his faux-haughty persona.
Even the way his face becomes animated on cue in this scene is a joy – while later the way that smile turns into a petulant frown when he loses a point in the imaginary game of tennis he plays with the room is even more amusing. With all the games, he's ensured the cards are stacked in his favour, prompting a childish sulk when they don't go his way.
Elsewhere in this festival, Walker is also part of the surreal cult must-see, Zanzoop, so it might not be any surprise to find moments of strangeness here: ambiguous but not confusing and, crucially, never indulgent. And the word 'baby' will never quite seem the same again.
Gaulier-trained, natch, Walker is also a natural improviser, prepared to go with the flow of the room if it blows him off-course, playing with audience reactions and taking odd interjections in his stride.
And pick up a hand-drawn programme on the way out for added jokes. As if he hadn't already packed in enough laughs in this assured and imaginative debut.
Review date: 14 Apr 2016
Reviewed by: Steve Bennett
Recent Reviews
What do you think?