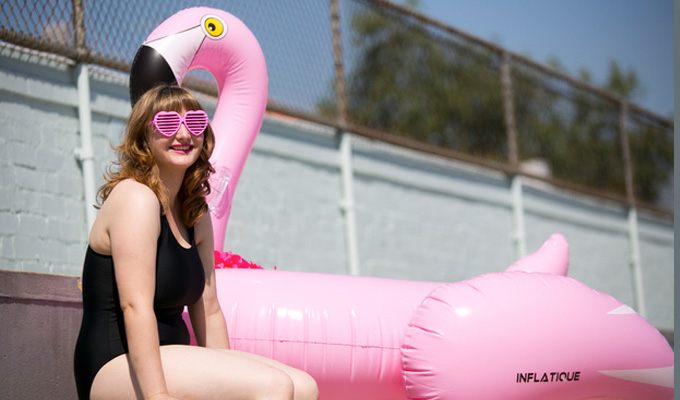 Laura Davis: Marco. Polo.
Note: This review is from 2016
Roll up, roll up, ladies and gentlemen, come witness the daring spectacle as Laura Davis takes on the daredevil task of performing stand-up comedy… drum-roll, please… entirely blindfolded!
Yet despite this peculiar stunt, Marco Polo is possibly the most accessible show yet from a sometimes challenging comedian who so often likes to make life difficult for herself, and her audiences.
Because of her situation, Davis has no idea who's in the crowd, or even if there's enough of us to warrant being called a crowd at all. Like the childhood swimming pool game, she'll call out 'Marco' and we reply 'Polo', but in this case we only respond if we agree with whatever premise she suggests.
It's a way of her feeling out the room, making connections – and perhaps overcoming the childhood trauma when she was left alone after everyone else used the game as an excuse to scarper the moment she couldn't see them. Will the audience prove less ephemeral as friends, and take the plunge to come and play with her?
Feeling out the room this way can make it hard for Davis to maintain the comic momentum, especially as many of her complex thoughts need some setting up. You don't just go into the idea of a rapist being a good feminist without context. And some of the ironically trivial 'what's the deal with?' observational material requires a little patience.
Yet she keeps the audience on side through sheer curiosity about what might happen next, which would be hard to predict even without the improvisational elements of her performance or the jeopardy of her gingerly climbing up and down a lifeguard's stepladder in her visually impaired state.
There's some irony, too, as despite the blindfold, she's 'started seeing someone'… a significant step towards happiness which might be kryptonite to her usually bleak-souled comedy. However, there are still some stories revealing the absurd elements of depression, and there's enough darkness looking outwards – at the anti-vaccination movement, for one – without the need to look inwards.
As well as reaching out for personal connections, she also feels her way towards strong, provocative punchlines – and finds them both. What initially seems to be a gimmick, slowly makes sense as she builds towards a tender finale, proving that her blindfold has a completely different angle to Simon Munnery's superficially similar Buckethead performances of more than a decade ago.
Marco Polo is certainly a unique experience, and while it might be a show to make you think as much as – or sometimes more than – you laugh, its richness of ideas will stay with you.
Review date: 4 Apr 2016
Reviewed by: Steve Bennett
What do you think?