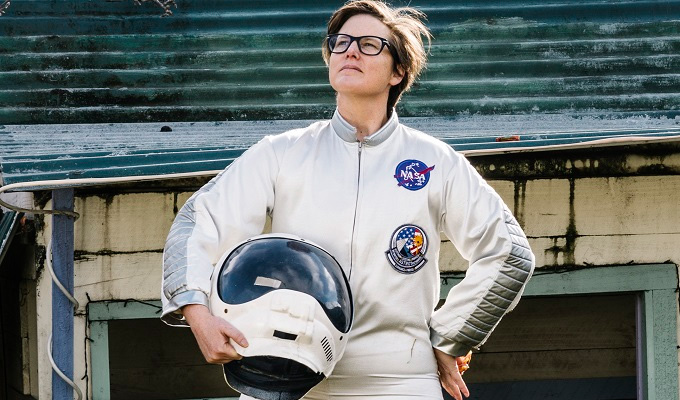 Hannah Gadsby: Dogmatic
Note: This review is from 2016
Hannah Gadsby was delighted with the acclaim her last show attracted, but dismayed by the fact those glowing reviews would be followed by a depression helpline number. That her uncompromising honesty about the ups and downs of her sometimes troubled life required a trigger warning isn't what you want as a chuckle-merchant increasingly moving into the mainstream.
So this time,in a sizeable venue, she's vowed to keep it light. 'No woe,' is the mantra she keeps returning to, normally after letting slip an unedifying fact about her past, as she's compelled to do.
Instead, she wants to take her cue from Taylor Swift, and notionally themes her show like the popster's last 1989 tour, recreating some of the poses and sticking to routines more akin to the three-minute single than her usual long-form storytelling.
The disconnect between a perky pop princess and a preternaturally deadpan outsider lands some easy early laughs, though ultimately the contrivance is overworked. It doesn't, however, distract from her anecdotes: from lodging with survivalist conspiracy-theory nuts in North Carolina to recalling her dad scavenging for useless treasures on the rubbish dumps of Tasmania, she has the storytelling chops to ensure a free flow of laughs.
She can't quite help returning to darker themes – her breakdown aged seven, for instance – but generally she's true to her promise to keep things light, and stories of her cute dog Dougie can always be deployed to help. And despite the stated aim of being a deliberately fragmented show, Gadsby makes it all hang together nicely – and didn't need the Tay Tay device to do so.
Ultimately, the alleged parallels with the singer collapse anyway, as Gadsby gives vent to her true feelings about the way this child of privilege has appropriated schoolyard bullying, watered-down feminism and vacuous inspirational phrases to become a multi-millionaire entertainer.
Uncharacteristically, though, this rant is hampered by flabby writing and a badly-executed gimmick on the big screen – perhaps the comic is trying too hard to emulate Swift's pretentious, meaningless address to her fans. Still the pertinent message comes through hard: haters gonna hate… and Gadsby definitely hates on T-Swizzle despite the bitterly ironic 'good on her's heaped on the superstar.
Swift fans may never go to a Gadsby gig ever again… as if they ever would.
Review date: 1 Apr 2016
Reviewed by: Steve Bennett
Reviewed at: Melbourne International Comedy Festival
Recent Reviews
What do you think?