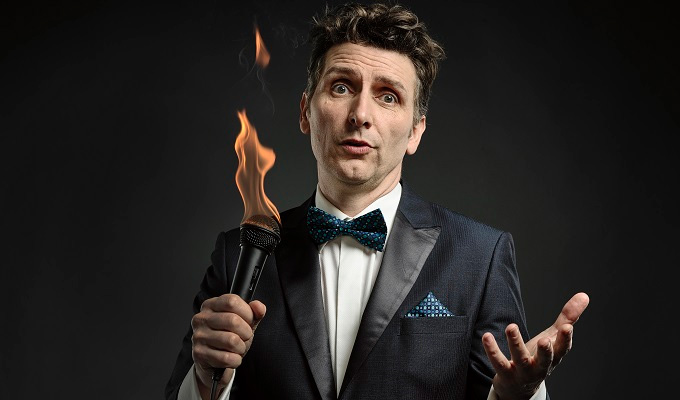 Frank Woodley: Extra Ordinary
Frank Woodley is one of the very few comedians at this year's Melbourne comedy festival to have been on stage at the first ever event, 30 years ago. But he maintains a verve in both writing and performance that comics not yet born in 1987 would envy.
He delights in invention, so no wonder he has been inspired for this show by William Shakespeare, who made up from nowhere so many words that are commonplace today. So Woodley has revisited one of his own best stand-up routines, in which he brilliantly mimics that linguistic creativity, on the 400th anniversary of the Bard's death.
It takes him a while to get there, though. We start with him creating Shakespeare's look with cheap props, from $2 Store ruff to the hilariously embarrassing consequences of the brainwave, right in the middle of K-Mart, that gave him his bald-patch wig, here re-lived in vivid, cringe-inducing detail.
But Woodley's tangleweed brain soon starts sprawling over all manner of disconnected territory – how did we get on to father-son cricket matches? – with slightly hit-and-miss results. At one point he imagines the audience thinking, 'it's a bit indulgent' – then finds himself agreeing with them. 
Some of his stumbles over words spin into contrived recoveries, but not all the digressions are planned. One punter's ill-advised decision to contribute a lame comment spins off a flight of fantasy about Jenny Agutter's pubic hair that was undoubtedly created in the moment, even if the idea has long been in Woodley's head. It's that mixture of honed skills and looseness that defines his performance.
But when the tuxedoed 48-year-old gets the right bit between his teeth, he shakes it relentlessly, squeezing out hidden humour. How often have you heard the word 'earwig' without truly appreciating what a bizarre word that is? But it triggers something in Woodley that means he just won't let go, producing a relentlessly silly tirade which means you'll never hear it in the same way again, either.
No review of his performance would be complete without reference to his bendy physicality, lolloping around, when required, like one of those wooden toy figures, whose string loose limbs tense up when you press the button on the base. Wonderfully expressive facial expressions complete the effect.
After three decades, he remains a fellow of most excellent fancy.
• Frank Woodley: Extra Ordinary is on at Melbourne Town Hall at 8.20pm (7.20pm Sundays) until April 17. No shows Mondays.
Review date: 31 Mar 2016
Reviewed by: Steve Bennett
Recent Reviews
What do you think?