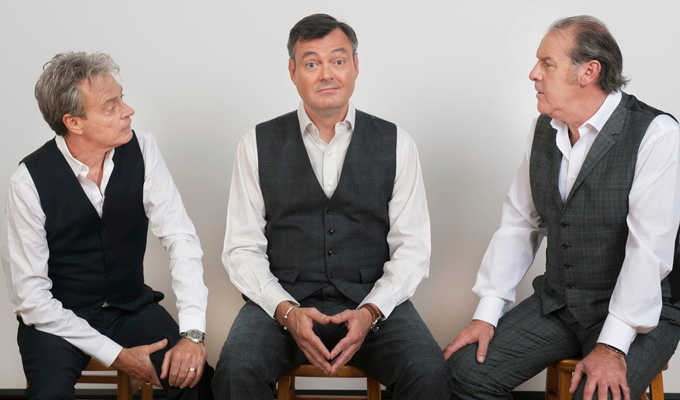 Canned Laughter
Seventies showbusiness has had a bad press recently, to put it mildly. And while Canned Laughter never approaches Operation Yewtree territory, this portrait of a Scottish comedy trio's disintegration explores plenty of darkness beneath the rictus grins and sparkling tartan suits.
In the present day, we see musical impressionist Alec Munro still packing them in, cynical but slick, a showbiz lifer making a decent living. Played by Scottish pantomime veteran Allan Stewart, it's an intriguing bit of casting. Alec used to be the straightman in a creakily entertaining young trio called Wee Three that played the club circuit north of the border.
The clown was Gus, played by Naked Video's Andy Gray, channelling his inner Eric Morecambe. And then there was Rory, the heart of the trio, played with sad-sack innocence by radio presenter Grant Stott.
From the opening scenes, when Gus confronts Alec backstage, it's evident that he's literally still haunted by Rory, whom they left behind when television stardom came calling. Stott takes the role of spectre, conscience and commentator for these contemporary scenes.
Fallen on harder times than Alec and in an effort to salve his guilt, Gus has penned a television script about the trio and the fourth member of their group, Maggie (Gabriel Quigley), their pragmatic sometime manager, Rory's sister and Gus' brief romantic interest.
Chronicling Rory's descent into alcoholism and Gus and Alec's subsequent bust-up at the height of their fame, Alec and Maggie question the sentimental retelling of history, but at varying levels, are attracted to the project.
Writer and director Ed Curtis has cannily overcome the problem of making the flashback scenes credible and funny by emphasising comedy's historical lack of authorship over material. This allows Gray to shamelessly do his best bits of Morecambe, which are very good, allied to the cheesiness of the various solo acts.
At each stage of their respective careers, be they successful or in obscurity, the rival drives and ambitions ring true, with the unreliability of Gus' memory blurring any sense that there's a definitive account. Alec's career trajectory is especially well plotted with its diversion into gameshows, an awful summer season in Blackpool when he's abandoned by Gus, and the power of ITV regional programming that 40 years ago, could make or break someone.
Unfortunately, with the group's demise evident from the start, you're set up to expect some huge flashpoint and possible revenge for Rory from beyond the grave, especially as Maggie's motivations are so vague. These internal conflicts never really come to a head, though, with Wee Three's gradual, bitter separation perhaps more authentic but lacking the satisfying drama that the play promises.
• Canned Laughter runs at the Theatre Royal, Glasgow, at 7.30pm tonight and tomorrow, with a 2.30pm Saturday matinee.

Review date: 18 Mar 2016
Reviewed by: Steve Bennett
Recent Reviews
What do you think?