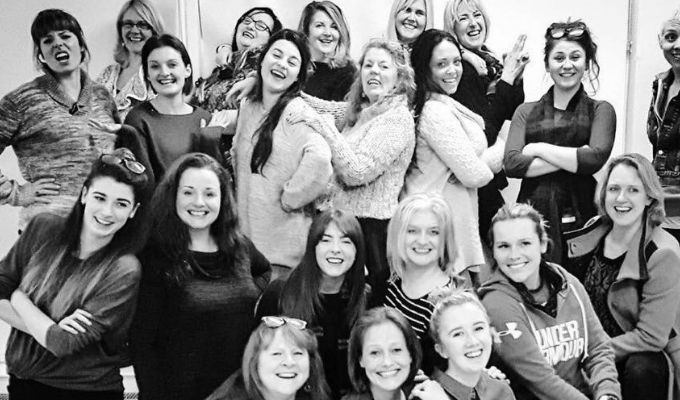 Witsherface
Note: This review is from 2016
Comprising an amorphous line-up of around 20 performers, Witsherface is less a sketch ensemble than a community, a showcase for female Glaswegian comic talent with an emphasis on promoting the grassroots.
And with the entire cast on stage virtually throughout, the 'community group' vibe actually enhances their appeal, any sense of worthiness held in check by an irreverent, lip-curling humour.
Establishing the tone of both sisterly solidarity and cutting insult, the opening skit has Karen Dunbar's MC affording each of her castmates a beauty contest sashay in the spotlight as she denigrates them and their home town. The presence of the Chewin' The Fat star is an undoubted boon for a show that features predominantly upcoming actors alongside a few familiar faces such as Still Game's Maureen Carr.
Dunbar leads by example, elevating often workaday writing with a masterclass in comic nuance, wringing laughs from her pronunciation of cheeses, the widening of her eyes or the flaring of her nostrils. However, she is often apart from the majority of her castmates – sharing a double-hander with Carr or popping up in the church's pulpit in a beanie hat and flying goggles, a Luddite spouting innuendo about new technology that she's struggling to understand.
This show too often feels like what it is – a runout for YouTube videos Witsherface are developing. While the performances are frequently strong, they're betrayed by indecisive direction and a patchy script that often has no clue how to extract amusing characters from the situations they've been deposited into, with booming music used to close several sketches in lieu of punchlines.
Going online would probably offer an opportunity for tighter editing, quality control and a pacing that the recurring sketches in particular are crying out for.
For example, Pene Herman Smith's inappropriate selfie-taker wears out its welcome after two too many gatecrashes, while Carr and Clare Gray's neddy, neck-bobbing pigeons feels like a one-joke idea still being passed around a writers room.
Similarly, Erin McCardie's status as the de-facto babyface of the group is over-relied on for a truly wretched bit of business with Alison Peebles in which the younger actor plays a vegetarian spider, both actors just shuffling meekly to the back of the room as it fizzles out.
Nevertheless, there are some memorable creations too. Peebles convincingly amalgamates the spirits of Joe Pesci and Jimmy Krankie for a flashpoint of angry wee person syndrome and gets solid laughs alluding to her multiple sclerosis. Elsewhere, Morag Fullerton is excellent as Poppy, a Scottish take on the sort of sozzled, oblivious middle-class dipsomaniac that Helen Lederer so often specialises in.
Best of all is a face-off between Scotland's political elite, with the SNP's Nicola Sturgeon and Mhairi Black squaring up to Labour's Kezia Dugdale and the Tories' Ruth Davidson. Although it descends into incoherent sound, fury and posturing once it becomes a rap battle, Louise Ludgate's jolly, Bufton-Tufton caricature of Davidson is exquisite in its physicality.
Review date: 13 Mar 2016
Reviewed by: Jay Ricahrdson
Recent Reviews
What do you think?